Student flies from Newcastle to London via Spain… because it's cheaper than taking train (VIDEO)
Published time: 30 Jun, 2017 13:33
Edited time: 3 Jul, 2017 13:09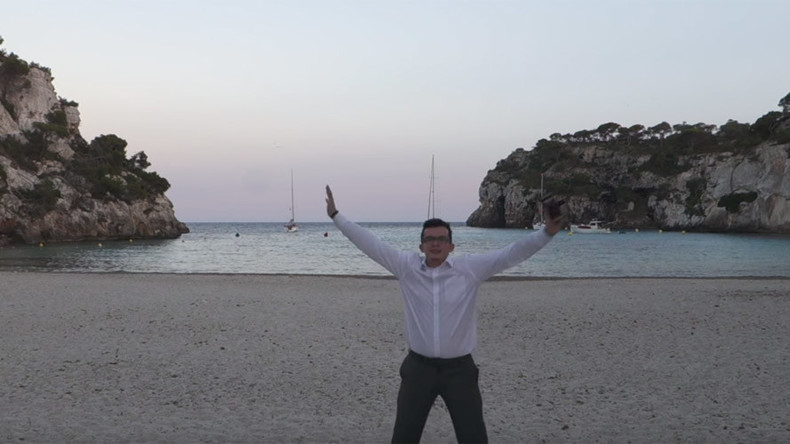 A British student traveled from Newcastle to London via the Spanish island of Menorca after finding out that it was considerably cheaper than taking a train from northern to southern England.
In an effort to save some cash and expose Britain's radically overpriced train fare system, Joe Furness embarked on the unusual journey to the capital.
After finding out the cheapest one-way ticket from Newcastle to London was £78.50 (US$101) , the 21-year-old decided to scout out cheaper alternatives.
"I looked at the train and it was £78.50, the absolute cheapest I could find anywhere on the internet," he said.
"But I once flew from Newcastle to Manchester via Switzerland because it was £20 cheaper, so I thought I'd have a look at what the flights were from Newcastle to anywhere in the world and then back to London Gatwick," the student said in a video about his journey.
The cheapest option was to fly through the island of Menorca, where Joe had a 12-hour layover.
The student used this time to rent a car, enjoy a local festival and catch some sun on the beach, which he had "all to himself."
"I found that Newcastle to Menorca and then to London Gatwick was only £26.99. To keep costs low, I avoided getting a hotel and hired a Fiat 500 for £7.50 a day.
"Basically, you can have a night on a Spanish island, hire a car, have a cocktail on the beach, fly back to London and still have £40 left over," he said.
After his brief sunny getaway, the student hopped on a British Airways flight to London Gatwick.
In addition to saving some money and enjoying an impromptu vacation, Joe sought to "show how ridiculous the UK train fares are," documenting his journey on YouTube.
In 2015, another student made headlines by traveling to his lectures in London from his home in the Polish city of Gdansk in order to save money on British transport and accommodation prices in the capital.