'Austerity chancellor' George Osborne accepts 6th job as economics professor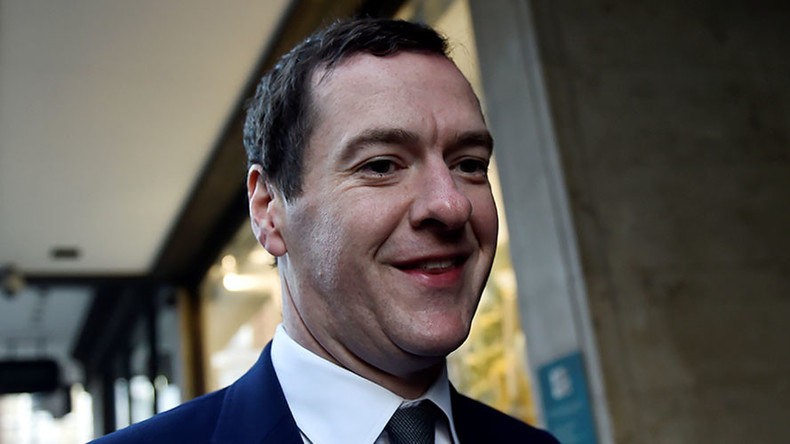 Having only just got to grips with his new role as editor of the London Evening Standard, ex-Tory Chancellor George Osborne has accepted yet another job, taking up the role of professor at the University of Manchester. The architect of austerity now has six jobs.
The former chancellor's new role is due to begin in July and will entail a few unpaid lectures and visits a year. He is reportedly "bowled over" by the "honor," according to the Independent.
Osborne is also an adviser to investment management firm BlackRock, chairman of the Northern Powerhouse Partnership, a fellow at US think tank the McCain Institute, and a speaker for the Washington Speakers Bureau, for which he makes lucrative after-dinner speeches around the world.
One colleague told the Financial Times the appointment was a "coup" for the university. They added, perhaps somewhat sarcastically, that Osborne will "relish" teaching austerity to angry young supporters of Labour leader Jeremy Corbyn.
In a letter to students and staff, Osborne said the University of Manchester is one of the "jewels in the crown" of the Northern Powerhouse.
He said the institution "was at the centre of so many things I tried to achieve as Chancellor, from the promotion of new science to the building of the links between this country and countries like China."
"I remain completely committed to that idea that together the different communities in the North can work together so that the whole is greater than the parts - and I believe more strongly than I ever did that the entire county, including our capital, would benefit from a stronger North," he added.
"That's why I remain closely involved as chair of the Northern Powerhouse Partnership - and look forward to playing a part in the life of The University of Manchester."
Professor Dame Nancy Rothwell, president and vice-chancellor of the University of Manchester, called his appointment "exciting news."
"He has been a leader at the top level of UK and world economic policy for many years and showed the vision to recognize the enormous economic and scientific potential of graphene to the UK.
"Our students and staff will benefit from all of this experience and he will be invaluable in helping the university to support the growth of our city and region."
The news hasn't been quite as warmly welcomed on Twitter.
Has anyone considered the possibility that it's actually George Osborne coming over here and taking our jobs?

— Andrew (@RooKnight) June 29, 2017
in the wake of the latest george osborne news, i want to let it be known i will also take on any high paying job that i'm not qualified for

— Emily Reynolds (@rey_z) June 29, 2017
"In the wake of the latest George Osborne news, I want to let it be known I will also take on any high paying job that I'm not qualified for," one user tweeted.
A BA in Modern History has led George Osborne to Chancellor, newspaper Editor and a Honorary Professorship, privilege over credibility 🤔

— Pablo (@Paul_Stuart) June 29, 2017
No word of a lie, George Osborne just showed up to fix our washing machine. Parts & labour reasonable price. Clean & well-mannered.Recommend

— David McGrath (@DaveMcgrath1) June 29, 2017
Another suggested Osborne, who said there would be a recession if Britain voted for Brexit, should "brush up on some economics given the dire warning he made during the referendum campaign that have failed to materialize."
Former UKIP leader Nigel Farage tweeted: "The man that got Brexit totally wrong & doubled national debt becomes Economics Professor. You can't make this stuff up."