Protesting cabbies offer George Osborne 'huge line of coke' on 1st day as newspaper editor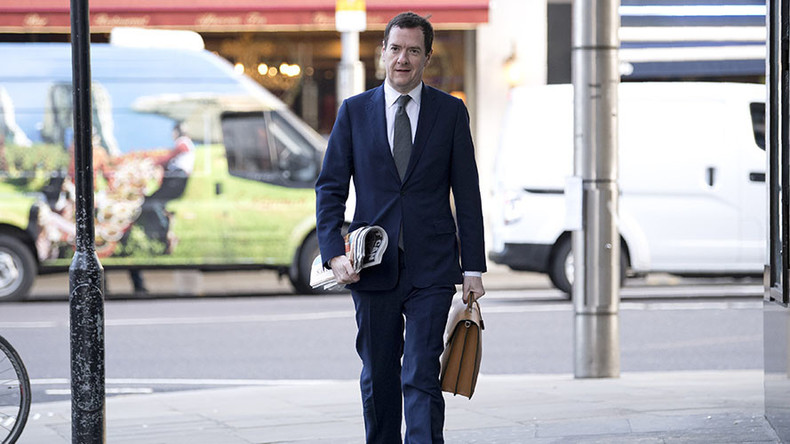 On his first day as editor of the London Evening Standard, former Tory Chancellor George Osborne was presented with a "huge line of coke" outside his new office by protesting black cab drivers.
The taxi drivers gathered outside the newspaper building on Tuesday after it emerged Osborne and the Tory government had intervened to stop then-London Mayor Boris Johnson imposing stricter controls on rival taxi service Uber.
His arrival was greeted with chants of "Osborne is a corrupt freak" and "greedy, greedy, greedy George."
An ex-prostitute, Natalie Rowe, has claimed she snorted cocaine with Osborne on a regular basis in the 1990s when he was a Tory aide. Osborne has always denied the allegations since they hit the headlines in 2005.
Osborne, MP for Tatton, is leaving Parliament to take up the role as editor of the free London newspaper, despite having no journalism experience.
The former chancellor walked into the publisher's offices at 7am, telling reporters it is a "really important time" when people are "going to want straight facts."
Excited about first day in new job @EveningStandard. Without fear or favour we'll provide the facts & analysis - and entertain along the way

— George Osborne (@George_Osborne) May 2, 2017
Critics fear the paper's election coverage will be highly biased towards the Conservatives under Osborne's stewardship.
However, the tone of his first editorial for the paper indicates Osborne is out to settle old scores rather than faithfully dote on his party. He said the election campaign behind Prime Minister Theresa May, who sacked Osborne when she took office last year, "amounts to no more than a slogan."
Osborne also took a dig at the PM's handling of Brexit, with the paper urging her to spell out her plans in greater detail.
The editorial brands Brexit a "historic mistake" and warns the country to prepare for "more tough days ahead as reality bites." It also attacks claims made about the strength of Britain's hand ahead of Brexit negotiations as "unrealistic."
"A general election victory for the Conservatives could provide more of a mandate, but only if the prime minister and her colleagues spell out in much more detail what their intentions are," the editorial says.
"It's early days, but that is not happening, thanks in part to the failure of the desperately weak Labour leadership to offer a proper opposition.
"There's nothing wrong with repeating election campaign slogans; the problem comes when the election campaign amounts to no more than a slogan. If you ask for a blank cheque, don't be surprised if later it bounces."
Osborne himself is no stranger to repetitive campaign slogans, however, having trotted out the Tories' "long-term economic plan" hundreds of times ahead of the 2015 general election.
You can share this story on social media: