Car hits pedestrians at Eid event in Newcastle, 6 casualties, 'not believed to be terror'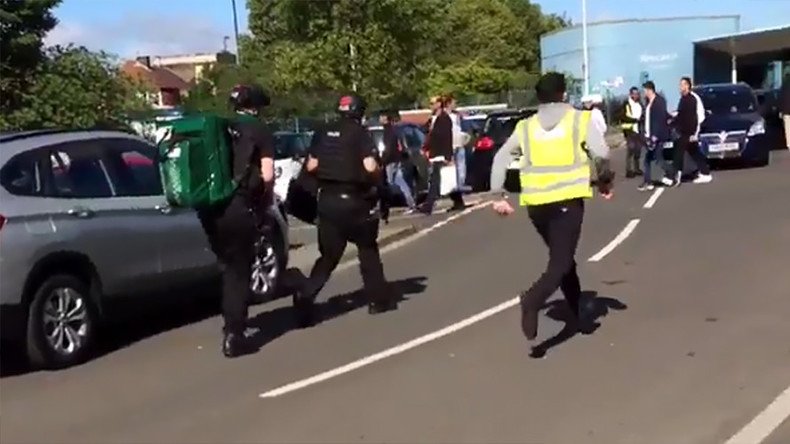 A car has plowed into people gathering for Eid prayers near a Newcastle mosque, UK media reports. Six people have been injured and a female driver has been arrested, police said.
The crash occurred outside the Westgate Sports Centre, according to a Northumbria Police statement.
The incident is not being treated as a terrorist attack, according to police.
A 42-year-old woman has been taken into police custody. According to a police statement, she had been celebrating Eid with her family and then got into her car and tried to leave, but "collided" with the crowd.
Northumbria Police initially reported that five people had been injured, but later revised the number to six. Three of those injured were children, according to North East Ambulance Service.
"We have taken six people to hospital, of which three are children and three are adults," it said, as cited by ITV.
Police said two of the injured children are now in pediatric intensive care and one adult is in the trauma high dependency unit.
"The remaining injured are believed to have serious but not life-threatening injuries," the police statement added.
Witness Asif Anwar, 29, told the Chronicle that there are two children among the injured.
"The lady lost control of the car and hit some people. Two of them were kids," he said. "It was chaos, everyone was panicking. People just don't know what is going on these days. Terrorism is what everyone was thinking straight away."
A separate witness told the Chronicle that two people were "very, very seriously injured."
Another witness took to Twitter to explain that the collision apparently wasn't intentional.
"What I just seen is scary, the car running over the people but not on purpose, she was trying to hold the brakes and hit the people," he wrote.
"There has been an incident on Westgate Road, but we do not believe it is terror related. It is an accident as far as we can see," a police spokesperson told the Chronicle.
He added that the injured have been taken to the Royal Victoria Infirmary.
Today's incident occurred just one week after a man deliberately drove into worshippers outside a mosque in London.
It also follows a string of terrorist attacks in the UK, which have included an attack on London Bridge that killed eight people and injured 48 earlier this month.
Last month, a suicide bombing at Manchester Arena left 23 dead and 119 injured.
An attack near the Houses of Parliament in March killed four people and injured more than 50.
You can share this story on social media: