Police considering manslaughter charges in Grenfell Tower fire investigation (VIDEO)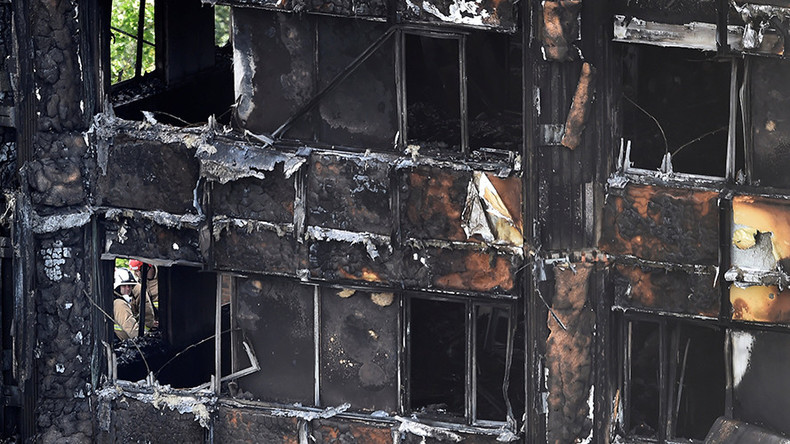 The fire that swept through Grenfell Tower in West London last week started with a faulty fridge freezer, and the outside cladding failed safety tests, police say.
Speaking to reporters at Scotland Yard, Metropolitan Police Detective Superintendent Fiona McCormack confirmed the force will consider manslaughter charges as part of its inquiry into the Grenfell Tower fire.
"We are looking at every criminal offence, from manslaughter onwards. We are looking at every health and safety and fire safety offences. And we are hearing every company involved in the building refurbishment of Grenfell Tower," she said.
"This is one of the largest and most complex investigations the Metropolitan Police has ever undertaken. There are apparently over 250 specialist investigators working on all aspects of this investigation. It will establish how the fire started and the speed and spread that it took hold of that building.
"We are investigating with experts the aluminium cladding and the insulation behind the cladding. How the tiles were fixed to the building and how it was installed. Preliminary tests on the insulation samples collected from Grenfell Tower show they combusted soon after the test started, The initial tests on the cladding tile also failed the safety tests."
McCormack said the fridge freezer, a Hotpoint FF175BP model, had not been subject to any product recall.
Witnesses at the scene of the 24-storey blaze in North Kensington on June 14 described hearing one resident claiming it was his appliance which was responsible.
"If I find out that individuals or organizations committed offences, I must be in a position to prosecute without prejudice to any proceedings," said McCormack.
"Our search of Grenfell Tower to recover all those inside and return them to their loved ones continues. The working conditions down at Grenfell Tower are difficult and distressing in many ways.
"Such is that devastation down at the scene this investigation might take at least until the end of the year. And there's a terrible reality that we might not find or identify all those that died during the fire."
Although the cooperation of organizations involved had been "excellent," McCormack confirmed the force had seized documents from some of them.
The Detective Superintendent said she feared "there are more" victims of the blaze still inside the building, indicating the official casualty count could rise. She urged families and friends of missing Grenfell residents who had not yet contacted the police to come forward. She insisted no immigration checks would be made in relation to the investigations at Grenfell.