Corbyn attacks 'government without a majority' for 'thin gruel' Queen's Speech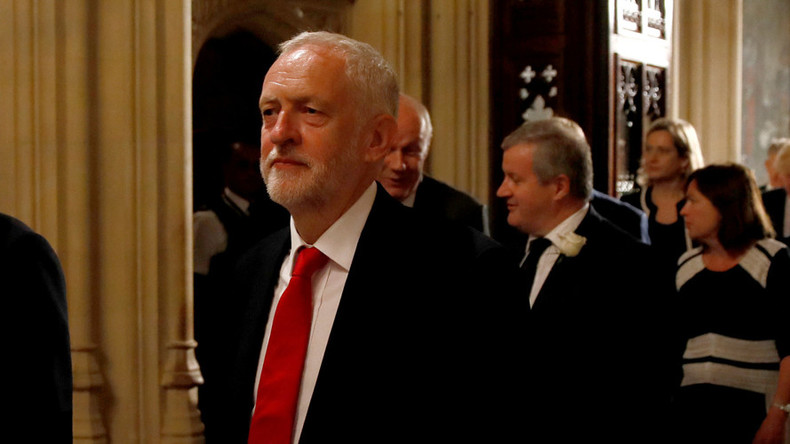 Labour leader Jeremy Corbyn has criticized the "threadbare legislative program" offered up by UK Prime Minister Theresa May's "government without a majority" and declared his own party is ready to lead Britain instead.
As a 'Day of Rage' protest marched to Westminster, the Labour leader tore into the prime minister's plans for two years of government in the House of Commons.
A number of Tory manifesto pledges including fox hunting, grammar schools, and the controversial dementia tax were canned. Nearly a third of the bills are designed to deal with Brexit alone.
Taunting May for shelving her pledge to scrap infants' free school lunches, Corbyn asked her to "confirm food is not after all going to be taken from the mouths of infants."
He also pointed out the Tories' ongoing failure to strike a deal with the Democratic Unionist party (DUP).
"The latest coalition may already be in some chaos. Nothing would emphasize that chaos more than the Queen's Speech we've just heard.
"A threadbare legislative program from a government that's lost its majority and apparently run out of ideas altogether.
"This would be a thin legislative program even if it was for one year. But for two years? Two years? There's not enough in it to last one year."
Corbyn also attacked public sector cuts and called for an end to Tory austerity.
"This is a government without a majority, without a mandate, without a serious legislative program, led by a prime minister who's lost her political authority and is struggling even today to stitch together a deal to stay in office.
"Labour is not merely an Opposition – we are a government in waiting," he added.
"Austerity and inequality are choices. They are not necessities. They are a choice to make life worse for the many to maintain the privilege of the few."
Corbyn also called for clarity on whether US President Donald Trump would visit Britain after the state visit was left out of the Queen's Speech.
You can share this story on social media: