'Day of Rage' protesters target Queen's Speech to 'bring down the government'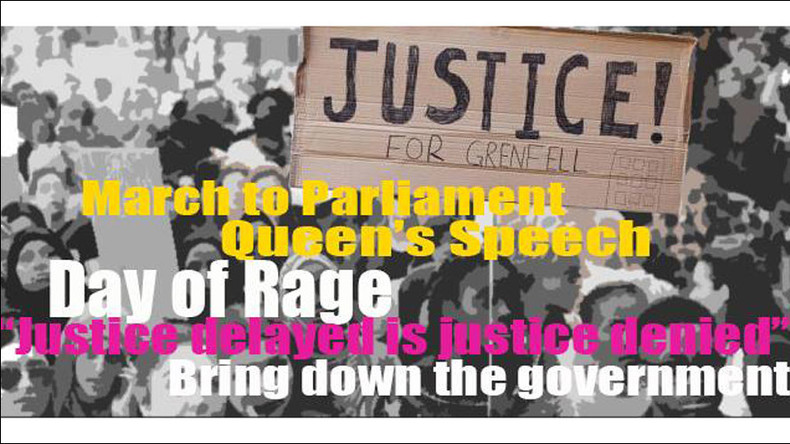 Protesters are marching on Downing Street to "bring down the government" over its response to the Grenfell Tower fire, amid appeals to ensure their grievances are not overshadowed by violence.
Three protests, including a "day of rage" demonstration, are being held to coincide with the Queen's Speech, the formal unveiling of the government's legislative agenda.
One protest organized by the Movement for Justice By Any Means Necessary (MJF), is demanding local housing for the displaced residents of Grenfell Tower and for all residents who do not have immigration papers to be given a permanent right to remain in the UK.
Organizer Karen Doyle told RT what happened at Grenfell Tower amounts to "mass murder" and the government must be held accountable.
"What happened in Grenfell … was the result of a government that has consistently put business interests and money and profits above the lives and safety of people - working class people, immigrants - for years. They're being squeezed out of London to make way for big business.
"We are furious. We are so furious at what happened in Grenfell - potentially 100 lives lost from negligence and disdain of poor and immigrant communities."
Doyle added: "We want to take that anger to parliament and we want to say that this government has got to go. This is the day Theresa May tries to get back to business as usual and we're not prepared to let that happen."
Other events on Wednesday include a demonstration organized by Stand Up to Racism called "Protest the Queen's Speech - no to May / DUP racism & bigotry!"
London Socialist Party is hosting a Facebook event called "May Must Go! Protest the Queen's Speech."
Those taking part in the protests have been urged to remain peaceful, amid fears that anger over the Grenfell disaster could be hijacked for violent means.
The Clement James Centre, which has been helping Grenfell Tower residents, told the Guardian that affected residents "do not want their grief hijacked for any violent or destructive means."
Asked about his support for the demonstrations, Labour's Shadow Chancellor John McDonnell said he backed the right to take direct action but only if it is peaceful. He urged protesters to "follow the lead of Gandhi."
"Today, people have got the right to be angry. What they haven't got is the right to be violent," he told the BBC.
He added that the Tories have "no right to govern," and that Labour would exploit May's weak mandate in the House of Commons to reverse Conservative cuts to public services.
Police officers have appealed for calm from protesters marching on parliament.
The demonstrations come at a time when the Metropolitan Police is stretched, following three terrorist attacks in the capital in recent months.
Tory MP Zac Goldsmith tweeted: "#day of rage - just what our emergency services need right now."
Police say they have put an "appropriate policing plan in place." Road closures and armed police patrols were in place this morning.
May's speech will be 'her first and last,' Tories say
May's agenda was stripped of Tory pledges after May's election campaign left her party without enough MPs to pass more contentious plans. Instead, she focused on what little clout she has on pushing through Brexit.
May was forced to endure the embarrassment of putting her Queen's Speech before parliament without knowing if it can be passed. She wrote it having failed to secure the support of the Democratic Unionist Party (DUP) MPs needed for her Commons majority.
Speaking ahead of her speech, May appeared to acknowledge the limitations of her plans.
"The election result was not the one I hoped for, but this government will respond with humility and resolve to the message the electorate sent," May said in a statement, which suggests criticism of her remote response to the Grenfell Tower fire has hit home.
A string of promises from her manifesto have been ditched, including U-turns on plans to axe universal school meals, and dump the triple lock on pensions. The major roll-out of new grammar schools also looks set to be put on ice.
A senior Tory backbencher told the Independent: "This is going to be her first and last Queen's Speech.
"She has very little leeway to get things through - if you look at grammar schools for example, how can that possibly be a part of it?
"The whips are going to be telling her, 'you have very little political capital. Don't waste it on things like that.'"
Another backbencher told the newspaper the Queen's Speech will be all about Brexit.
"It will be Brexit-heavy because that's pretty much the only big thing that everyone can agree needs to happen - putting disagreements about how it will happen aside."
Number 10 'chaos' holds up deal with Tories
Meanwhile, the Tories have held talks on forging a "confidence and supply" deal with the DUP, which has 10 MPs.
Sources in Northern Ireland told the Press Association, however, that "negotiations haven't proceeded in a way that DUP would have expected." The party is urging the government to give "greater focus" to negotiations, with a warning that it "can't be taken for granted."
The DUP has blamed chaos in Number 10 for the hold-up of a deal. One DUP source told The Times that dealing with Downing Street was like wading through treacle to get the simplest thing done.
After initial signs of progress, the Tories were forced to row back on a premature announcement that agreement had been reached, and talks have now dragged for 11 days without reaching a conclusion.
May's deputy, Damian Green, the first secretary of state, told the BBC there's "still … every possibility of a DUP deal. The talks have been taking place in a constructive way."
He added: "Clearly, two political parties, we have some differences. But we have a lot in common.
"We're both unionist parties at heart. We're both obviously very concerned with combatting terrorism, we both have similar views about delivering a good Brexit for this country and obviously we're both very, very concerned with the Irish border issue."
May will need the DUP to back her legislative program when it goes to a vote next week in order to stay in Number 10. Sources on both sides suggested that a deal may be ready by Thursday.
You can share this story on social media: