Armed man arrested at London's Paddington Station (VIDEO)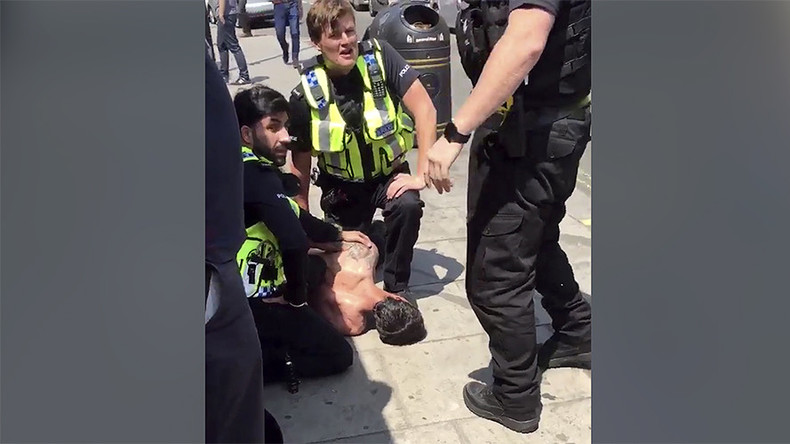 A man "possessing an offensive weapon" has been arrested outside Paddington train station in central London, officials report.
The suspected attacker, a shirtless man, was arrested "for public disorder and possessing an offensive weapon," British Transport Police said.
"The incident is not being treated as terror related," officials added.
The man was "trying to attack an officer… while shouting 'Allahu Akbar' and other foreign words," an apparent eyewitness, Gary Miller, said on Twitter, posting a video of the incident.
Another video posted on Twitter shows the man, still dressed, taunting an officer before grabbing the suitcase of a passerby and then running backwards before the footage ends.
The man was then restrained by several police officers, before being "taken to a place of safety."
The night before, at least one person died and 10 others were injured as a man driving a van ploughed into a crowd of pedestrians in Finsbury Park in north London, next to a Muslim center and near a mosque.
The Metropolitan Police have released a statement saying the incident is being treated "as a terrorist attack."
In the wake of the Finsbury Park attack, London Mayor Sadiq Khan has urged anyone who experiences hate crime to report it to police, advising people not to consider any incident to be "too trivial."
"These have been a terrible few weeks for London, unprecedented in recent times," he added.