Theresa May admits gov response to Grenfell fire 'not good enough'
Published time: 17 Jun, 2017 16:55
Edited time: 18 Jun, 2017 11:04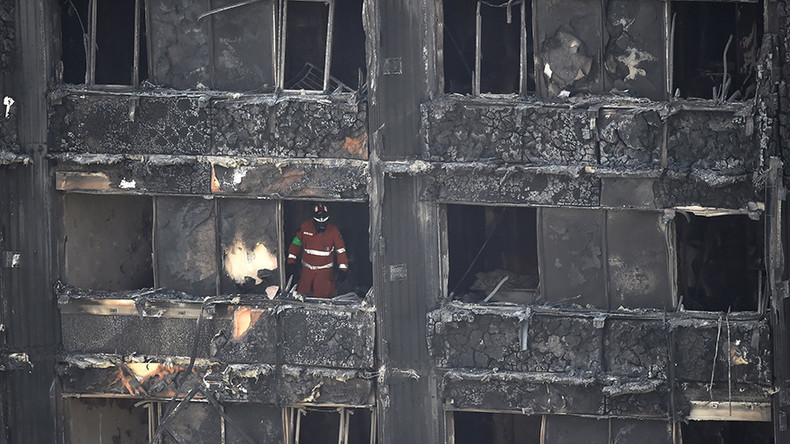 British Prime Minister Theresa May has issued a statement on the Grenfell fire, admitting "support on the ground for families who needed help or basic information in the initial hours after this appalling disaster was not good enough."
"I have ordered immediate action across the board to help victims' relatives and the survivors," May added.
"People lost everything in the fire and were left in only the clothes they were wearing. I can confirm that a £5m emergency fund that I announced yesterday is now being distributed on the ground so people can buy clothes, food and other essentials," she added.
London police said Saturday that 58 people are assumed dead in the fire, and that the number could rise with many people still missing. Officials previously reported a death toll of 30 people.
May confirmed that the public inquiry will report to her directly.
"There have been huge frustrations - people do not know who to talk to, they can't get through on the council hotlines," she added. "I have ordered that more staff be deployed across the area, wearing high visibility clothing, so they can easily be found, dispense advice and ensure the right support is provided."
May met with the victims' families along with community leaders at Downing Street on Saturday, as protests took place in London.
Following the two-and-a-half-hour meeting, a spokesperson confirmed that a series of demands and expectations had been established and said the group would make a full statement on the meeting once it had returned to the community.
READ MORE: London police: 58 people assumed dead in Grenfell Tower fire
"Victims have concerns their voice will not be heard, that their many questions about this tragedy will not be answered. That is why I ordered a public inquiry, with the costs for providing victims with legal representation met by government," May said.
"The inquiry will be open and transparent… Government and ministers will cooperate fully. I anticipate the name of the judge will be announced within the next few days and that an open meeting will be held with residents to help shape the terms of reference," she added.
May also said councils had been ordered to conduct safety checks in high-rise buildings, and that the NHS London would provide "specialist long-term bereavement support" for the families.
"The fire at Grenfell Tower was an unimaginable tragedy for the community, and for our country," she concluded. "My government will do whatever it takes to help those affected, get justice and keep our people safe."