'Trapped with no way out': Grenfell Tower residents raised fire risk fears long before blaze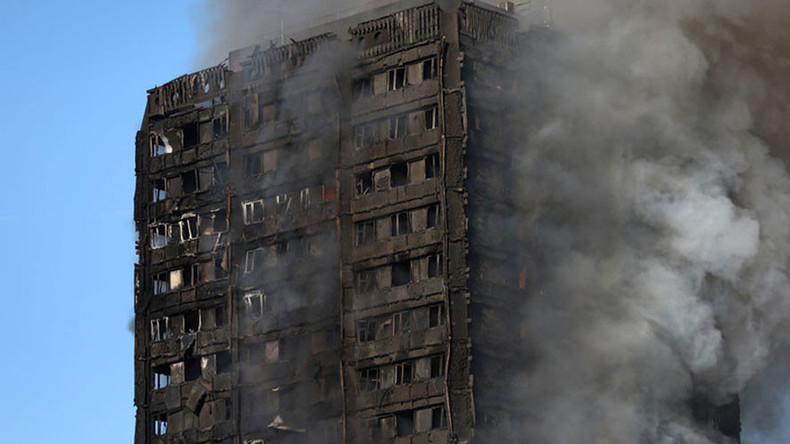 Residents of Grenfell Tower in London repeatedly warned authorities that the building was a fire risk, saying that people would be trapped in the building "with no way out."
Grenfell Action Group (GAG), which describes itself as working to defend and serve the Lancaster West community, voiced safety concerns over the 120-apartment block in West London back in January 2016.
"It has been very clear for some time to the residents of Grenfell Tower that those responsible for ensuring the smooth running of Lancaster West Estate are failing in their duty of care and willfully allowing our residential amenity to decline in unacceptable ways," a GAG blog post reads.
According to GAG, there is only one entrance and exit to the tower block, and if a fire engulfed the building, "residents would be trapped in the building with no way out!"
The tower had an "accumulation" of "household 'bulk' rubbish," including old mattresses, in the entrance foyer, which constituted a fire risk and "a danger to residents," the blog said.
"It would appear that not all residents with bulk rubbish to dispose of are willing to take this task on, and we suspect that some are probably physically incapable of doing so. It is therefore vital that the caretaking staff take responsibility for ensuring that all such health and safety hazards are promptly dealt with."
With an improvement work underway, there was no elevator access to the ground floor, according to the blog.
"Not for the first time we must ask how safe is Lancaster West, can staff be trusted to ensure it is safe, and what hidden fire risks might be lurking in Grenfell Tower or elsewhere on the estate?" it said.
Grenfell Tower was completely engulfed in a blaze that started and rapidly spread on Tuesday night. Reports on social media suggest people are trapped inside, while officials confirmed that there have been a number of fatalities.
At least 45 fire engines and over 200 firefighters and officers have been deployed to the scene, the London Fire Brigade said. According to the London Ambulance Service, 50 patients have been taken to hospitals so far.
Following the incident, GAG said that it posted numerous warnings about the very poor fire safety standards at Grenfell Tower and elsewhere in neighborhood.
"All our warnings fell on deaf ears and we predicted that a catastrophe like this was inevitable and just a matter of time."
A Grenfell Tower Regeneration Newsletter addressed to the residents back in 2014 said that their "'stay put' policy stays in force until you are told otherwise."
"This means that [unless there is a fire in your flat or in the hallway outside your flat] you should stay inside your flat. This is because Grenfell was designed according to rigorous fire safety standards."
According to the newsletter, "the new front doors for each flat can withstand a fire for up to 30 minutes, which gives plenty of time for the fire brigade to arrive."
You can share this story on social media: