Former Tory PM John Major intervenes over 'fragile' DUP deal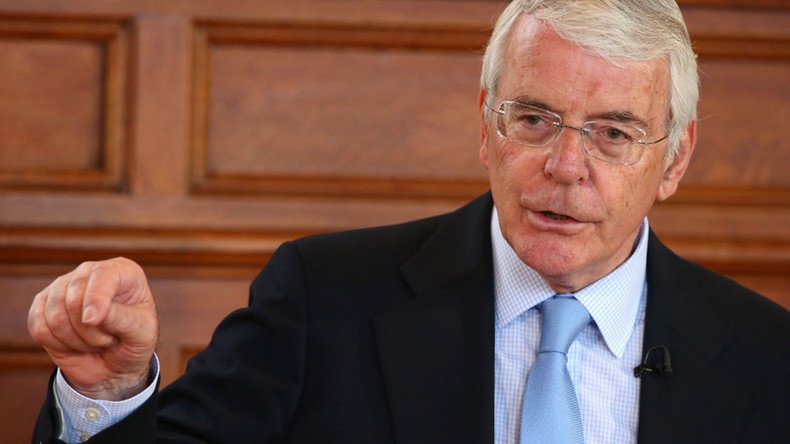 Former Tory Prime Minister John Major has spoken out against Theresa May's intent to prop up a government with the support of the Democratic Unionist Party (DUP).
He said he is "wary" about the "fragile" deal between the prime minister and DUP leader Arlene Foster as it might undermine Northern Ireland's peace process, which he claims may "unwind."
Major's comments come as May is due to discuss the terms of a "confidence and supply" deal with Foster at Downing Street on Tuesday, which would mainly entail the DUP backing the government on confidence votes and budget requests.
Major warned striking the deal with the right-wing party could make the UK come across as rather than an "honest broker," potentially affecting the peace process and galvanizing "hard men still there, lurking in the corners of communities" to return to some form of violence.
Saying the "peace process should not be regarded as given," the former Tory leader told the BBC.
"I am concerned about the deal, I am wary about it, I am dubious about it, both for peace process reasons, and for other reasons as well.
"My main concern is the peace process. A fundamental part of that peace process is that the UK government needs to be impartial between all the competing interests in Northern Ireland.
"And the danger is that however much any government tries, they will not be seen to be impartial if they are locked into a parliamentary deal at Westminster with one of the Northern Ireland parties," he said.
While prime minister, Major was instrumental in the development of the 1998 Good Friday Agreement, which helped calm long-standing disputes between Unionists - who support being part of the UK - and Republicans, who want to leave.
Major urged May to reconsider leading a minority government instead, saying it is "an option well worth considering."
Following her humiliating defeat in the general election, May announced last Friday that she would be allying with the pro-Brexit DUP party to gain a 13-seat Conservative majority.
The ex-Conservative leader insisted the will of the 48 percent of Britons who voted to stay in the EU cannot be "brushed aside as some of the more rigorous hard-line Brexiteers wish."
Major, who has described Brexit as a "horrific mistake," said the idea of a 'hard Brexit' is becoming "increasingly unsustainable," as it has not been "endorsed by the electorate in this particular election."
In February, Major said the PM is giving false hopes to the public over what to expect from Brexit.
"I have watched with growing concern as the British people have been led to expect a future that seems to be unreal and over-optimistic," Major said during a speech at Chatham House think tank.
"Obstacles are brushed aside as of no consequence, whilst opportunities are inflated beyond any reasonable expectation of delivery."
He called on May to be realistic about the timescale and complexity of Brexit negotiations, before advising her to use a bit more "charm and less cheap rhetoric" as the atmosphere in Brussels is already "sour."
You can share this story on social media: