Muslim leaders should 'take responsibility' for extremism – Archbishop of Canterbury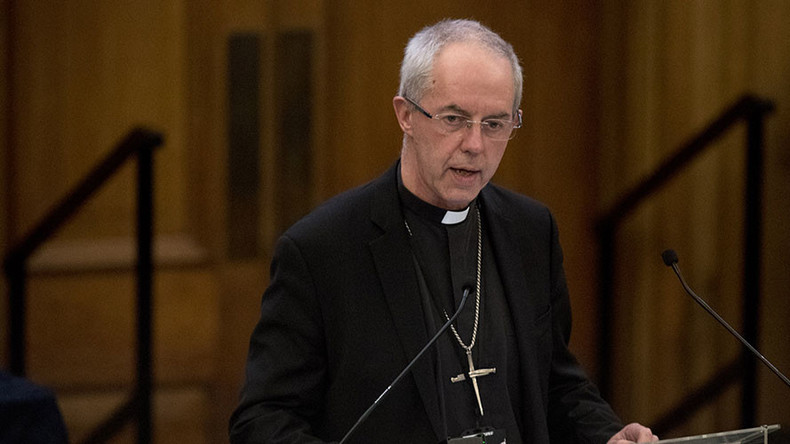 Archbishop of Canterbury Justin Welby has urged faith leaders to take action against religion being adopted as a pretext to commit mass terrorist atrocities.
Speaking in the aftermath of the London Bridge terrorist attack on Saturday evening, which killed seven and injured almost 50, Welby said a fundamental lack of religious knowledge is hindering authorities' attempts to counter the theology behind acts of terrorism.
"They are often people who are unable to put themselves in the shoes of religious believers and understand a way of looking at the world that says that this defines your whole life, every single aspect of who you are and what you are," he told the BBC Today program on Monday.
The Church of England's highest cleric called on all leaders, religious and secular, to acknowledge the ideological nature of "religiously motivated violence," as failing to do so would likely make it "impossible" to overcome.
Welby said religion has been "twisted and misused" throughout history to accommodate violence.
"We have got to say that if something happens within our own faith tradition we need to take responsibility for countering that."
The Archbishop seemed to suggest it would be hypocritical for Muslim leaders to refuse any correlation between the terrorist acts and Islam, and that it would be akin to saying Christians had no involvement in the Srebrenica massacre of more than 8,000 Muslims at the hands of the Bosnian Serb Army.
"I don't think it is getting us anywhere, just like saying Srebrenica had nothing to do with Christianity," he said.
Although he praised the "extraordinary" condemnation of the London Bridge attack by every "significant" Muslim leader and body, he said that Islam is missing a "structure."
"From an outside perspective, one of the issues about dealing with Islam is that there is not much of a structure. There isn't a pope or a bishop that you can go to and say these are the leaders.
"There will always be particular groups which take views that are different from the mainstream but what is clear over the weekend is the extraordinary level of condemnation by every significant Muslim leader we know and every significant Muslim body we know."
It follows the Muslim Council of Britain (MCB) condemnation of the attack in the "strongest terms."
"I am appalled and angered by the terrorist attacks at London Bridge and Borough Market, in my home city," Harun Khan, Secretary General of the MCB, said in a statement.
"These acts of violence were truly shocking and I condemn them in the strongest terms.
"Muslims everywhere are outraged and disgusted at these cowards who once again have destroyed the lives of our fellow Britons.
"That this should happen in this month of Ramadan, when many Muslims were praying and fasting only goes to show that these people respect neither life nor faith."
It also comes as 130 imams and religious leaders have refused to offer Islam's traditional funeral prayer to the perpetrators of the London Bridge and Borough Market attack, despite it usually being performed for all people, regardless of their actions.
The MCB justified its decision on the basis that such "indefensible actions" are "completely at odds with the lofty teachings of Islam."