London Bridge terrorist was allowed to work at Westminster station despite known jihadist views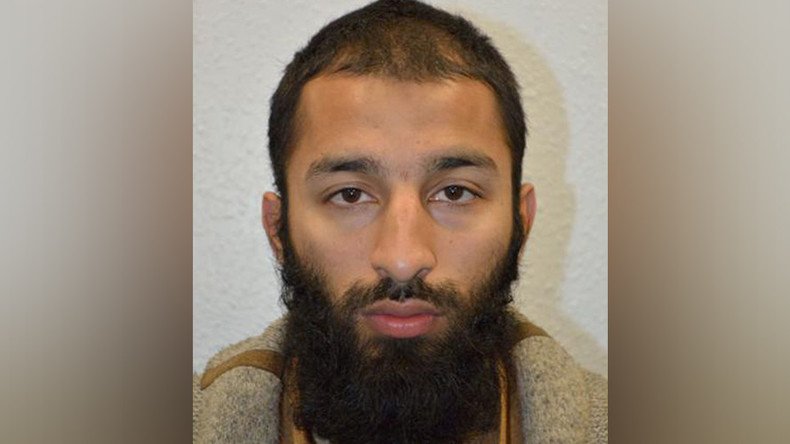 Khuram Shazad Butt, one of the three London Bridge attackers, was allowed to work at Westminster Tube station, even after he featured in a TV documentary about British jihadists in which he prayed to a black flag in Regent's Park.
He was also free to carry out Saturday's atrocity despite working for a man accused of helping to train the 7/7 bombings ringleader, and being investigated by police and MI5, it has emerged.
The third terrorist behind the London Bridge attack has been named as Youssef Zaghba. It emerged he was arrested last year trying to reach Syria, yet was still able to get into the UK. Reports in the Italian media said Zaghba was stopped in Bologna. His mother is Italian and still lives there.
Butt, 27, from Barking, East London, was deemed "low priority" by the Metropolitan Police despite being reported to them at least twice. He had slipped down in priority because there was no intelligence he was planning an attack.
Butt was pictured wearing an Arsenal football shirt after being gunned down by police on Saturday night.
He and two other terrorists killed seven and injured 48 when they used a rented van to mow down pedestrians on London Bridge. Wearing fake suicide vests, they then went on a knife rampage in Borough Market, stabbing victims with 12-inch blades. Eighteen people remain in critical condition in the hospital.
Pakistani-born Butt had links to a key contact of Mohammed Siddique Khan, the eldest of four suicide bombers who killed 52 people in an attack on three London tube trains and one bus in 2005, and Anjem Choudary, Europe's most notorious hate preacher, The Times reports.
According to the newspaper, Butt worked at an all-Muslim gym in East London run by Sajeel Shahid, 41, a member of Choudary's network who allegedly helped to set up weapons training in Pakistan for the 2005 bombers.
The pair were "close friends," the newspaper reports.
Butt would help run high-octane mixed martial arts classes, and would allegedly use the gym to approach young pupils for radicalization.
Butt also worked for the London Underground as a customer services trainee for six months, at Canada Water and Westminster, where he was eventually fired for poor attendance.
Butt was part of a "group of British extremists intent on spreading their message of global jihad" who appeared in the Channel 4 documentary 'The Jihadist Next Door.'
In the documentary, he can be seen praying behind a Black Standard flag at a local park wearing Middle Eastern-style clothing.
The married father-of-two was also reportedly alerted to police when he was found giving chocolate to children in his neighborhood and preaching extremist views to them.
Butt had reportedly become so extreme that he called Muslims without beards non-believers, would not speak to women directly, and was banned from a mosque for berating worshippers for being "un-Islamic."
Butt's final WhatsApp message before the attack has also been revealed. According to the Mirror, the jihadist last used the messaging service on Wednesday – three days before the attack.
On his profile, he wrote a message saying: "ALLAH says (Quran 94:6) – Indeed, with hardship, comes ease."
He changed his profile picture to a message from the holy book of Islam, which read: "Speak justice, speak kindly, speak politely, speak fairly, speak gently, speak graciously, speak not in vain."
Met Police defend dropping investigation into Butt
Butt was "prioritized in the lower echelons of our investigative work," police said.
"At any one time MI5 and police are conducting around 500 active investigations, involving 3,000 subjects of interest," Met Police Assistant Commissioner Mark Rowley said.
"Additionally, there are around 20,000 individuals who are former subjects of interest, whose risk remains subject to review by MI5 and its partners."
UK Foreign Secretary Boris Johnson told Sky News that questions need to be answered about how Butt was not monitored.
"[People] are going to say 'how on Earth could we have let this guy, or possibly more, through the net?'
"What happened, how could he possibly be on a Channel 4 program and be committing atrocities like this?
"That is a question that will need to be answered by MI5, by the police, as the investigation goes on."
The two other London Bridge terrorist attackers were not known to security services.
A second attacker, Rachid Redouane, 30, has been named by police. He also lived in east London, used an alias, and claimed he was from both Morocco and Libya.
Raids across London continue
Police are carrying out further raids, dragging a family of six from their beds in Newham, East London, overnight.
All suspects were released without charge on Monday night, before another raid in Ilford, also in East London.
No one has been detained in the search, which began in the early hours.
The 12 people arrested on Sunday after the attack have now been released without charge, the BBC reports.
You can share this story on social media: