London Bridge attacker appeared in Channel 4 doc on 'British jihadis' (VIDEO)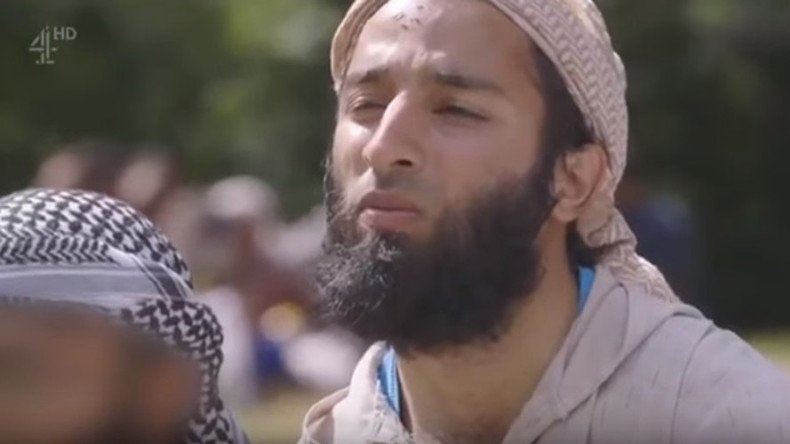 Khuram Shazad Butt, one the London Bridge attackers recently identified by police, appeared in a Channel 4 documentary called 'The Jihadist Next Door' last year. Police were reportedly alerted after he was filmed praying behind a jihadist Black Standard and attempting to recruit children at a local park.
Butt, 27, from Barking, East London was part of a "group of British extremists intent on spreading their message of global jihad" who appeared in the program.
In the documentary, Butt (wearing all beige) is filmed praying with the Black Standard with white shahada (Islamic creed) flag in the forefront, along with a group of other radical Muslims in the middle of London's Regent's Park. The variations of the Black Standard with white shahada has been used by numerous jihadist groups including al-Qaeda and Islamic State (IS, formerly ISIS/ISIL).
A police statement released Monday said Butt was known to police and the domestic intelligence agency MI5, but was not thought to have been planning an attack.
Seven people were killed and 48 injured when three terrorists wearing fake suicide bomb vests used a rented van to mow down pedestrians on London Bridge. They then went on a knife rampage in Borough Market, stabbing victims with 12-inch blades.
Thirty-six people remain in hospital. Of those, 21 are in a critical condition.
Eleven people are in police custody in relation to the incident, Prime Minister Theresa May says.
The three attackers were shot dead by police.
The second attacker was identified as Rachid Redouane, 30. He had claimed to be both Moroccan and Libyan, according to police.
Inquiries are still ongoing to identify the name of the third attacker.
"I would urge anyone with information about these men, their movements in the days and hours before the attack and the places they frequented to come forward," Assistant Commissioner Mark Rowley said.
Even before Butt was identified, the British press ran reports about this particular attacker describing him as 'Abz.' He was first pictured lying on the ground wearing an Arsenal football shirt.
According to the Times, he lived in a block of flats with his wife and two young children. The flat was raided by police early Sunday. He was well known in the local community, with one mother claiming she had confronted him for trying to influence her children with extremist religious views in a park.
Ken Chigbo, who lived in the same block of flats as Butt, told the Mirror the suspect was "really sociable" and had invited him to a barbecue just last week. He would "preach to young Muslims at the flat, sometimes up to six people quite regularly," Chigbo said.
A former friend of Butt told the BBC he had contacted the police after he became concerned about his friend's extremist views. The terrorist had been radicalized watching extremist videos online, he said.
"We spoke about a particular attack that happened and like most radicals he had a justification for anything and everything and that day I realized I needed to contact the authorities," the friend said.
"I phoned the anti-terror hotline. I spoke to the gentleman. I told him about our conversation and why I think he was radicalized."
The source said Butt was allowed to keep his passport and was not arrested.
"I did my bit, I know a lot of other people did their bit, but the authorities did not do their bit."
Another source told the Sun that Butt had worked at a KFC outlet a few years ago and had a reputation for "being a bit shady and taking drugs."
"But that all changed when he became radicalized. He had been stopping his neighbors in the street and asking them if they had been saying their prayers and when they had been to the mosque."
Another local who knew him said Butt was kicked out of a Barking mosque for arguing with an imam, according to the Metro. About two months ago, Butt started questioning what the imam was saying and was "forcibly taken out."
One of the three attackers, Rachid Redouane, was reportedly carrying an identity card issued in Ireland when he was shot dead on Saturday. The Gardai (Irish police) say Redouane was not known to them.
Redouane, a pastry chef of Libyan-Moroccan origin, was married to a Scottish woman and lived in Dublin while he was in Ireland.
The Metropolitan Police has not yet commented on what, if anything, they knew about the attackers before Saturday.
Islamic State (IS, formerly ISIS) has claimed responsibility for the killings, the third major terrorist attack in Britain in less than three months.
You can share this story on social media: