People stabbed, police storm pubs, guests locked out of hotels – London attack witnesses to RT
Witnesses of the London Bridge terrorist attack described Saturday night's chaotic scenes to RT's Polly Boiko. Police imposed unprecedented security measures, placing the area on lockdown and urging everyone to "run" and "hide."
At least seven people died and dozens were injured after attackers driving a van ploughed into pedestrians on London Bridge before going on a stabbing spree in Borough Market area. Three perpetrators were killed by police.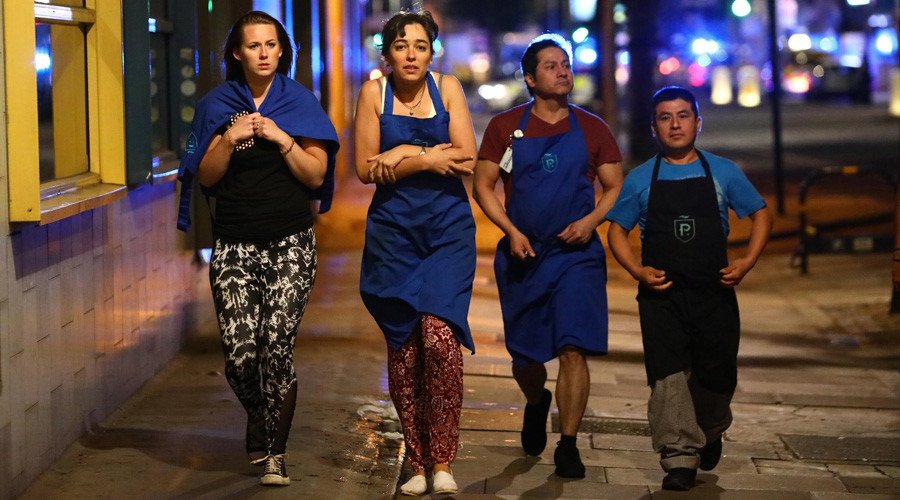 The manager of a pub in the vicinity of the attack told RT that armed police stormed into the building and "basically asked us to leave." A woman in the pub said the experience was "terrifying," and that she could see a person lying on the ground from the window.
Another witness, a young man, told Boiko that he was on the bridge at the time the carnage took place, and saw a man being arrested by police just next to him. He was, however, unable to describe the man, as his face was covered with a hood.
READ MORE: 3 attackers shot dead after killing 6, injuring at least 48 in LondonLive updates
"I did not really see. I tried to snap it but I just had been told to run," he said.
An employee of the pub said that a man entered the pub asking for a shot, and told her that a guy "was stabbing people and running people over" in the streets.
Boiko, who has been reporting from London close to the scene of the attack, said that people were forced onto the streets by the evacuation ordered by police, sealing off the neighborhood and leaving many people struggling to find a safe place to stay.
If anyone in the LB area needs a safe place to stay our flat is open. It's 10 mins away, we have a spare bed & hot drinks #LondonBridge

— Alex Cheng (@alexrz_cheng) 4 июня 2017 г.
Many night revelers and tourists have grown "increasingly frustrated" and are "feeling not very safe," unable to get back to their hotels because they happened to be in the sealed area.
READ MORE: London Bridge terrorist act: At least 6 killed in vehicle ramming, stabbing attacks
At the same time, it was also difficult for them to check into another place, as the hotels were warned by police to not take in new guests in order to not compromise the security of those already there, Boyko said.
Many Londoners responded by offering their own places as temporary accommodation amid an outpouring of support for the victims.
If anyone needs anywhere to stay and be safe get in contact, our place is open 👊🏻 #Londonbridge

— Harry Gallagher (@Nightscapeldn) 3 июня 2017 г.
"If anyone is stuck near #LondonBridge and wants a place to crash and a home cooked meal, then my house is only three mins away. Just message," Ellie Newey wrote in a Twitter post, liked over a thousand times.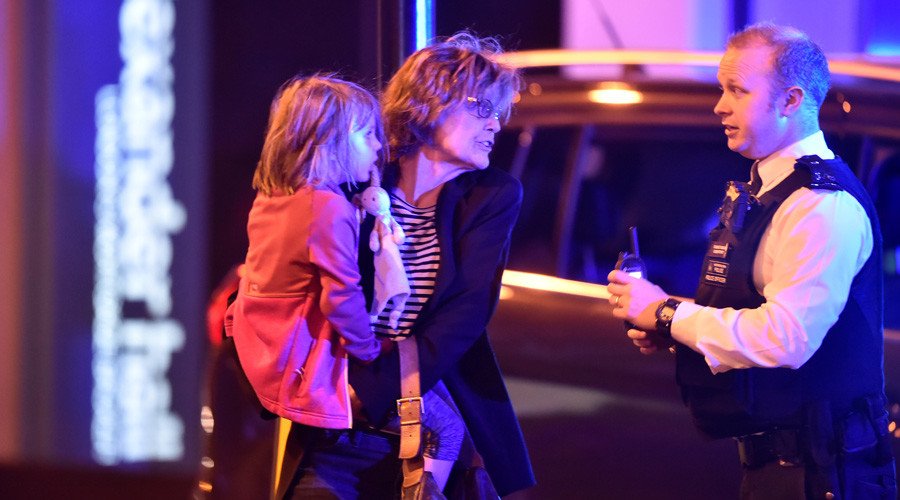 Many more have followed suit.
Another Twitter user going under the user name @gxyred wrote in a post that has since gone viral that he was offered "food and a place to stay" by "Muslim shopkeepers."


After an hour of being stuck in the #londonbridge area and told to run by police, Muslim shopkeepers offered me food and a place to stay.

— jared (@gxyred) 4 июня 2017 г.
I live about 15 mins from #Londonbridge and if anyone is in need of a safe place to stay tonight, please get in touch

— Stephan Bookas (@stephanbookas) 3 июня 2017 г.
You can share this story on social media: