'Internet battlefield': Theresa May calls on G7 leaders to fight online extremism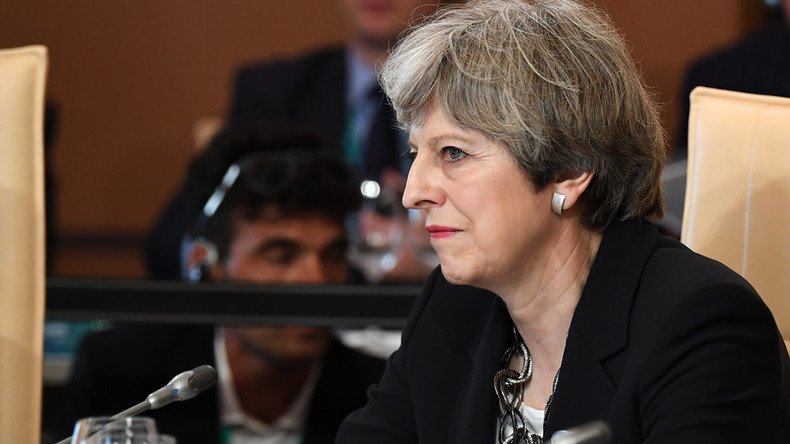 British Prime Minister Theresa May called on fellow G7 leaders to put more pressure on tech firms to prevent extremists from operating online with impunity while reaffirming the UK's commitment in the fight against global terrorism.
Her speech at the G7 summit in Sicily on Friday followed a campaign address made by Jeremy Corbyn, in which the Labour leader linked Britain's foreign policy in the Middle East and North Africa with the rise of domestic terrorism.
May wasted no time returning to campaign mode when asked about Corbyn's controversial comments.
"There can never ever be an excuse for terrorism and there is no excuse for what happened in Manchester," May said.
She addressed the British public with a clear choice on election day: A vote for someone who "works tirelessly for the British people and their interests" or a vote for Jeremy Corbyn, who is "frankly not up to the task."
Their comments followed Monday night's suicide bombing at Manchester Arena, which killed 22 and injured 116.
Many of the victims were young women and girls who had been attending an Ariana Grande concert.
May chaired a joint session on counter-terrorism, where she discussed the "battlefield of the internet."
She called for measures that will force internet giants and tech firms to deal with extremist literature and recruitment online.
Suggestions included developing tools to identify and remove harmful materials, ordering firms to report such materials to authorities when they are published, and to revise the definition of dangerous online material.
"The prime minister will say that the threat we face is evolving rather than disappearing as [Islamic State (formerly ISIS/ISIL)] loses ground in Iraq and Syria.
"The fight is moving from the battlefield to the internet," a senior government source told the Guardian.
"What she wants the G7 nations to do is to move towards a common approach focused on the need to defeat [IS].
"In particular she wants to use G7 to call for the members to adopt a collective approach when working with tech companies on this agenda, and she will say that the industry has a social responsibility to do more to remove harmful content from its networks," the source explained.
You can share this story on social media: