Hospitals across UK told to 'prepare for further incident' in wake of Manchester attack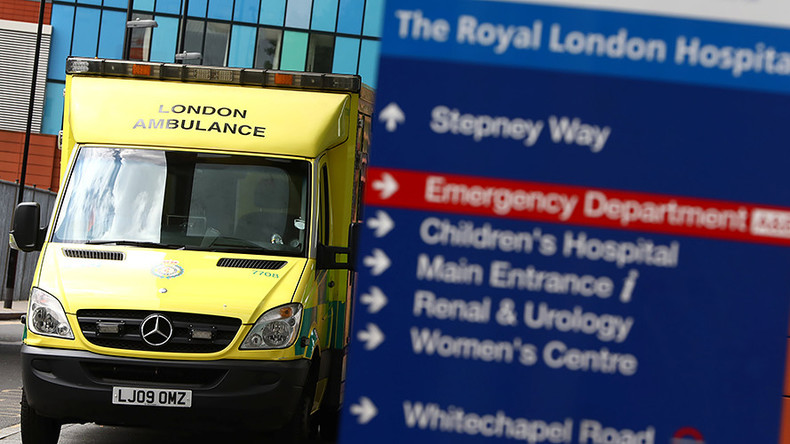 The UK's National Health Service (NHS) has issued an urgent alert to every hospital in England, including trauma centers in 27 cities, to "prepare for a further incident" during the upcoming bank holiday, British media report.
With the terror threat warning in the UK having been raised to its maximum "critical" level following the terrorist attack on the Manchester Arena concert hall on Monday, the UK's national clinical director for trauma, Chris Moran, has released the warning calling on staff to be ready for a possible new attack in the coming days.
READ MORE: 1,000 soldiers on streets as nervous Britain prepares for 'imminent' terror attack
Having praised the "tremendous response" provided by medics in Manchester to the victims of the recent bombing, the official said this was possible not only because of the medics' excellent skills, but also due to the "preparation that has taken place" across Britain's hospitals.
"You will be aware that we have a bank holiday weekend approaching," he emphasized.
"There are a number of things that all trauma units and major trauma centers can do to prepare for a further incident and I should be grateful if you could disseminate these within your network so that front-line clinicians are aware," the Moran's letter read, as cited by the Health Service Journal on Thursday.
The letter, instructing the NHS's hospital trauma units to be put on standby, urged all surgical teams to be ready to treat "patients with blast and ballistic injuries."
Such a large-scale warning to NHS hospitals has been issued for the first time since 2008, when Mumbai in India was hit by a series of terrorist attacks, the Guardian reported.
READ MORE: 'Very wicked': Queen Elizabeth visits Manchester attack victims
More than 30 people, almost half of them children, remain in Manchester hospitals following Monday's bombing in which 22 people were killed. In total, 116 people had received care, with 75 having been admitted to hospitals, the NHS said. Ten of the injured are still in a critical condition.
You can share this story on social media: