Manchester Arena suicide blast as it happened – Timeline in VIDEOS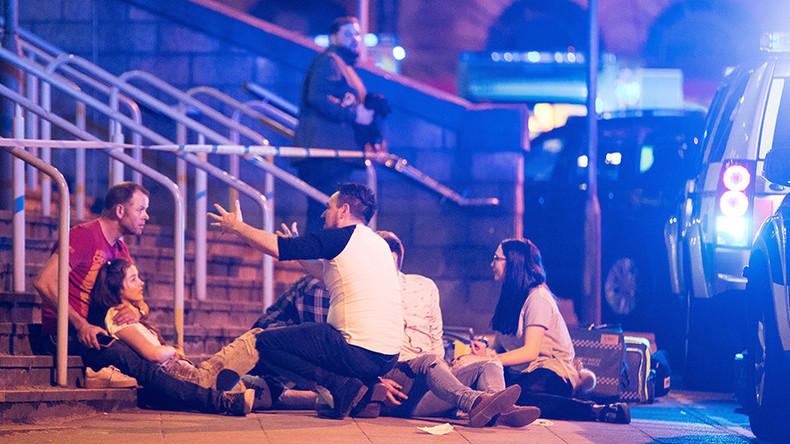 A loud bang rocks the packed venue, people panicking and police arriving – RT looks at the suicide bombing that killed 22 at Manchester Arena as it happened, in successive eyewitness videos.
This video, which features the moment the bomb exploded inside the venue, was uploaded on Twitter. It shows an excited crowd leaving the Ariana Grande concert at Manchester Arena, which a capacity of 21,000 people.
A loud bang can be heard and, a second later, the panicked crowd starts shouting and running towards the exits.
The moment of the bang, this time recorded from the outside of the stadium, was captured by the dashboard camera of a vehicle parked nearby.
"If you look towards the left, you see the explosion and hear the bang," the uploader wrote, adding "never felt so scared in my life."
Several videos from inside the arena show the panic that engulfed the spectators following the blast. People are seen screaming and stampeding towards the exit.
One more video shows frightened concert goers running down the stairs as they flee in panic.
The terror-stricken spectators then rushed to Victoria Station, which is located close to Manchester arena.
A graphic video uploaded on YouTube shows a woman in shock with both her legs injured and blood dripping to the ground. Bystanders are seen trying to provide first aid.
"Call an ambulance! Quick!" a voice is heard crying in the video.
A terrified witness who lives close to the arena described the moment of the blast to Ruptly.
"I just heard a really loud bang, and first I thought the train had crashed. It definitely sounded like something major happened. Yeah that's pretty much what I heard. And then just sirens, then police helicopters hovering and all that," he said.
Shortly afterwards, the wail of sirens filled the city as emergency vehicles rushed to the arena.
Police cordoned off the area and urged people to stay clear of the site.
A bomb disposal team arrived at the scene to investigate the explosion, another video posted on social media showed.