Downing Street protesters say police plan to arrest Assange is 'beyond the pale'
Published time: 19 May, 2017 14:01
Edited time: 20 May, 2017 13:07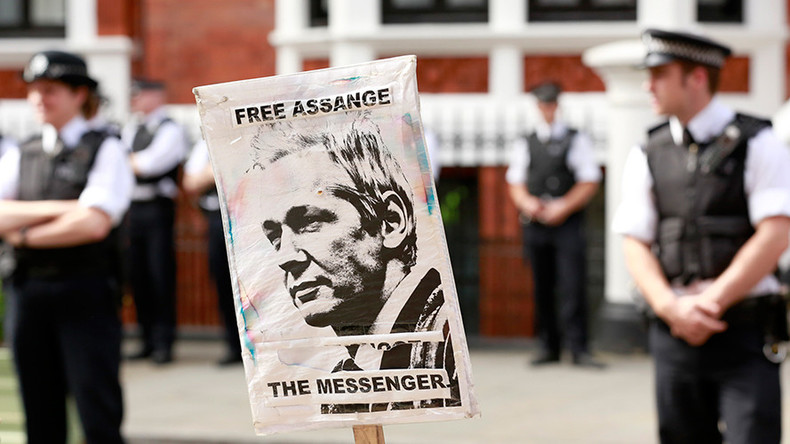 Organizers of a protest calling for Julian Assange to be allowed to freely leave the Ecuadorian Embassy say a police threat to arrest the WikiLeaks founder is "beyond the pale."
On Friday, Swedish prosecutors dropped a preliminary rape investigation into Assange, ending a seven-year stand-off. The Metropolitan Police, however, swiftly confirmed it would still arrest the Australian over the lesser charge of skipping bail in 2012 when he sought asylum.
Assange, 45, has been holed up in the embassy for almost five years. He sought asylum over fears the Swedish rape investigation would result in him being extradited to the US over leaked military documents and diplomatic cables.
A public demonstration, organized by Veterans For Peace UK, is being held outside Downing Street, the prime minister's residence, in central London.
Organizer Ben Griffin told RT that now the investigation into Assange has been dropped, the British government should allow Assange to leave the embassy and travel freely to a destination of his choosing.
"The Metropolitan Police Service said… it remained obliged to arrest Mr Assange should he leave the Ecuadorian embassy on a lesser charge of failing to surrender to a court. This is beyond the pale."
"The situation as it stands is that there is no case to answer in Sweden.
"The only thing preventing Julian from leaving the embassy is a threat from the Metropolitan Police to arrest Julian for breach of bail, for a warrant that no longer exists.
"The Metropolitan Police should drop their claim of arrest and allow Julian Assange to leave the embassy."
Assange has always denied the rape allegations made against him. He claimed they were made up as part of a plot to see him extradited to the US over his involvement with WikiLeaks.
"Over the last seven years, WikiLeaks has published The Iraq War Logs, The Afghan War Diaries, Collateral Murder, Cablegate and numerous other government documents that have shed light on the true nature of the wars that we fight," Griffin says.
"As a result… Assange has powerful enemies around the world, none more so than the government of the United States of America."
Detained for 7 years without charge by while my children grew up and my name was slandered. I do not forgive or forget.

— Julian Assange (@JulianAssange) May 19, 2017
If Assange is arrested, it remains unclear whether he risks being extradited to the US.
UK Prime Minister Theresa May says any decision about Assange's arrest or otherwise is an "operational matter" for police.
Asked if she would support the UK extraditing Assange to the US, May said: "We look at extradition requests when we receive them on a case-by-case basis.
"And in relation to Julian Assange, any decision that is taken about UK action in relation to him were he to leave the Ecuadorian embassy would be an operational matter for police."