Blast from the past: Drone footage shows spectacular detonation of WW2 bomb (VIDEO)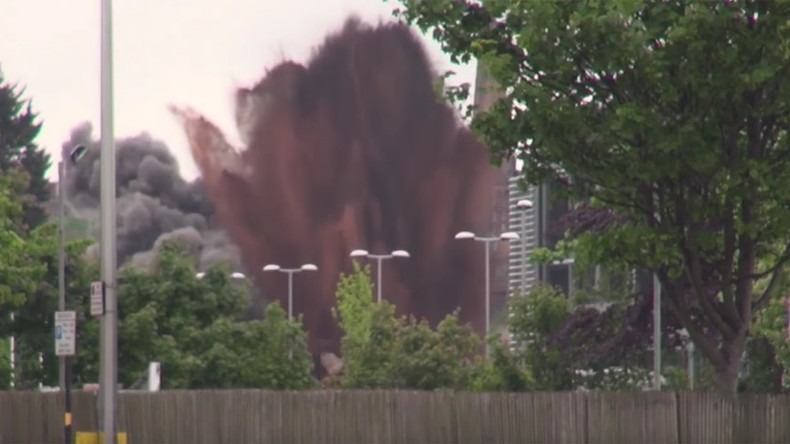 Drone camera footage has captured the moment British Army experts set off a massive explosion to dispose of a 500 pound Nazi bomb that had been lying under the streets of Birmingham undiscovered for 70 years.
Soldiers worked for 28 hours straight to prepare the bomb and the surrounding area for the controlled detonation.
A WMP drone captures the explosive moment a controlled detonation was carried out on a German WW2 bomb found on a building site in Aston pic.twitter.com/KmUGAeSa4h

— West Midlands Police (@WMPolice) May 16, 2017
The bomb was uncovered at a construction site in Aston, just north of Birmingham's city center.
The discovery was reported to police on the morning of May 15 and the bomb was quickly identified as a Blitz-era weapon.
Specialist bomb squads from the Royal Logistic Corps and Royal Engineers were quickly called in to build a blast wall around the site and examine the area for vulnerabilities, like gas pipes.
The soldiers brought in 250 tons of sand to fortify the area around the bomb.Tuesday's detonation threw earth high into the air and sprayed dust and small debris onto a nearby building.
The army said in a statement: "The troops needed to conduct a significant amount of mitigation work to prepare the site, after a 500-metre cordon had been set up, due to the amount of sensitive infrastructure in the area, particularly the A38 Aston Expressway flyover and a gas pipe.
"Soldiers worked tirelessly throughout the day and night, for 28 hours, to construct a blast wall to protect the infrastructure in case the bomb detonated. 250 tonnes of sand was brought in, on 13 truckloads, to construct a secure blast mitigation structure."
Sergeant Paul Daniel of the 721 Explosive Ordnance Disposal (EOD) Squadron told the Birmingham Mail that this was "the largest disposal of a device in situ in recent history," saying the "badly corroded state" of the bomb, as well as the built-up area in which it was found, made the procedure all the more dangerous.