'Mr Fish Finger' launches election bid to put Lib Dem leader Tim Farron 'in his plaice'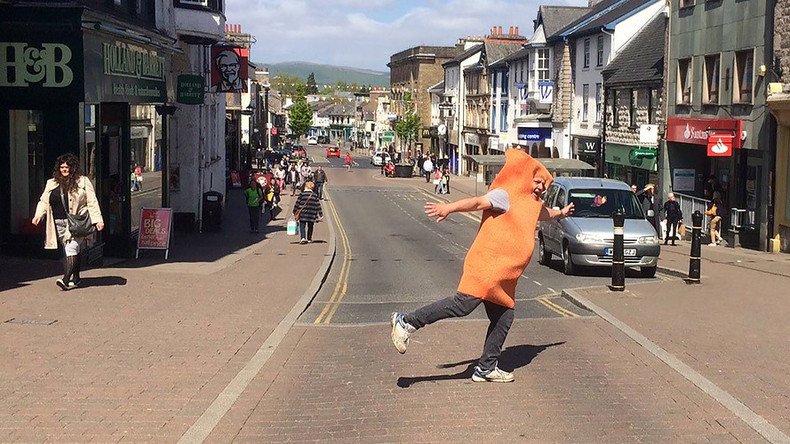 A man dressed as a fish finger has been accepted as an official contender in the upcoming general election. He is standing against Liberal Democrat leader Tim Farron and hopes to "put him in his plaice."
The candidate, who goes by the name Mr Fish Finger, is fighting for the Westmorland and Lonsdale seat against Farron, Conservative James Airey, and Labour's Eli Aldridge.
Donations made to the a crowdfunding page in support of Mr Fish Finger's nomination now stand at £2,301 ($2,959) – enough to cover the required £500 deposit required from every candidate.
Mr Fish Finger, whose real identity remains breadcrumbed in secrecy, announced his official candidacy on social media.
It is unclear what Mr Fish Finger's political values are or whether or not he backs Brexit, although one of his policies is to ensure "no more foreign fish in our fingers."
It is also unclear whether Farron, who has held the seat since 2005, will take part in any official debates with Mr Fish Finger.
If he wins on June 8, he has vowed to conduct all related business dressed as the breaded cod favorite.
Mr Fish Finger follows a fine tradition of comedy candidates in British elections. In 2015, comedian Al Murray ran in South Thanet hoping to block Nigel Farage's bid for Parliament.
The Official Monster Raving Loony Party has also been running candidates since 1983, with their man Sir Oink A-Lot getting 0.5 percent of the votes in Oldham West in 2015.
The party's late founder, musician David Sutch, also known as Screaming Lord Sutch, 3rd Earl of Harrow, ran for a series of elections between 1963 and 1997.
You can share this story on social media: