May pledges to boost military spending after defense chiefs say Britain can't afford to fight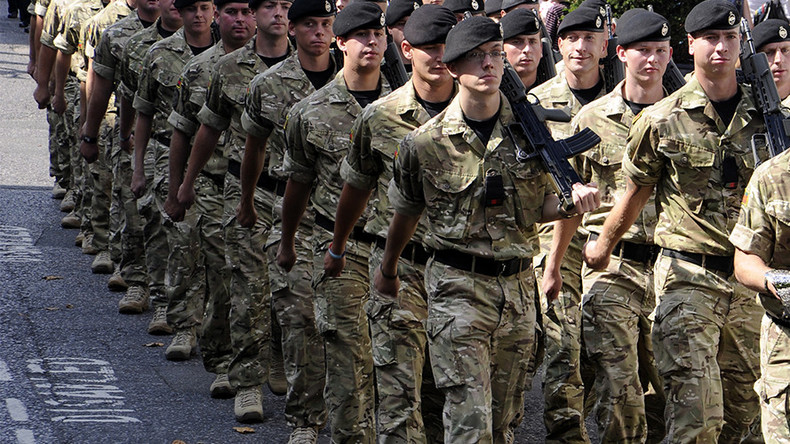 UK Prime Minister Theresa May has pledged to increase military spending after an open letter from a group of military officers and defense scholars delivered to Downing Street warned Britain is losing its ability to fight due to austerity.
"The armed services are having to seek further very damaging savings in manpower, support and training at a time when the likelihood of combat operations is increasing," the letter signed by former defense chiefs and military experts warned.
Signatories include former army chief General David Richards and former First Sea Lord Admiral Michael Boyce.
Ministry of Defence (MoD) claims that government spending on the forces is above two percent of GDP are "disingenuous" and consist mainly of "quoting irrelevant financial statistics," the letter said.
"Government boasts of spending 2 percent of GDP on defence are widely criticized as an accounting deception.
"Most analysts agree core defence expenditure for hard military power is well below 2 percent," the signatories said.
May quickly made an election pledge that the two percent would be met and that spending would be increased by 0.5 percent above inflation over the next five years.
"As Prime Minister I always have and always will put Britain's national security first," she said in a statement.
"Under my leadership the Conservatives will ensure that the brave men and women of our Armed Forces have the equipment and resources they need to keep our country safe – and that we meet our obligations to the world.
"But a strong military is only possible with a strong economy, and [Labour Party leader] Jeremy Corbyn would put both at risk if he makes it to Downing Street propped up by the Lib Dems and [Scottish National Party] in a coalition of chaos."
Labour Shadow Defence Secretary Nia Griffiths told the Evening Standard: "The Tories' hypocrisy on defence knows no bounds. Their cuts have left our forces more under-resourced and underpaid than at any time in the modern era."
Corbyn has promised a full review of military spending and to meet the two percent target if he is elected.