Ex-leader of far-right EDL Tommy Robinson arrested trying to 'video Muslims' outside court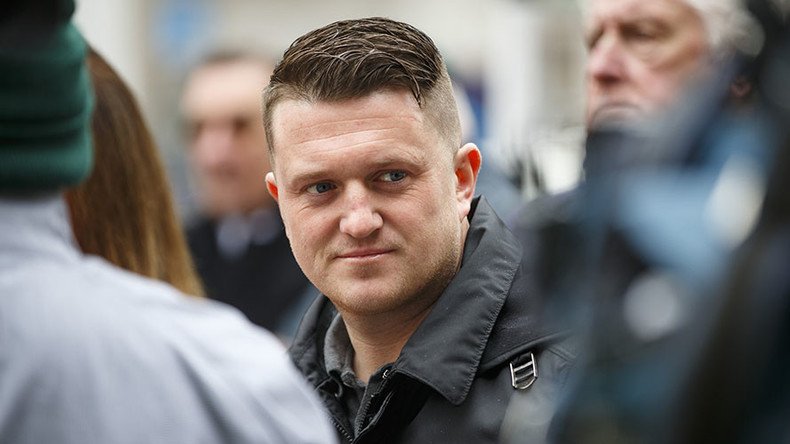 Tommy Robinson, former leader of the far-right English Defense League (EDL), was arrested after trying to "video Muslims" outside Canterbury Crown Court on Monday.
Robinson posted a video on Facebook of himself being arrested by two officers early on Thursday morning.
He is heard saying: "It's 04.32 and the police are at my house, and I'm being arrested for going to a court case in Canterbury and trying to video the Muslim paedophiles."
Stephen Christopher Yaxley-Lennon, who adopted the pseudonym of Tommy Robinson for safety reasons, was arrested after being warned by guards at the court that he could not use his camera.
Filming or recording in UK courtrooms and the court precincts is illegal under section 41 of the Criminal Justice Act 1925 and the Contempt of Court Act.
Robinson claimed in a tweet that he had been arrested for "attempted journalism" after trying to film four men on trial for raping a 16-year-old in Thanet.
Tommy was arrested at his home at 04:30 this morning on charges relating to attempted journalism outside... https://t.co/3ffc9UMB7y

— Tommy Robinson (@TRobinsonNewEra) May 10, 2017
Kent Police confirmed the arrest.
"On Wednesday, officers attended an address in Luton, Bedfordshire, and arrested a 34-year-old man for contempt of court," a force spokesperson said.
"The arrest is in relation to an incident at Canterbury Crown Court on Monday (May 8)."
According to Kent Live, the defendants were held inside the building after the hearing while Robinson was waiting outside.
The news outlet also reported that Robinson, along with two cameramen from his media organization Rebel Media, got pushed out of Canterbury Crown Court after entering its precincts in hopes of interviewing the alleged rapists.
Robinson launched the EDL in 2009 to counter the "rise of radical Islam" before abandoning the group in 2013.
According to the Huffington Post, Robinson claimed the anti-extremist think-tank Quilliam, with which he worked on anti-extremist strategies, had paid him thousands of pounds to abandon the far-right group so they could take "credit" for his resignation.
But Quilliam, which was once also reported to have received millions of pounds of government funding, has strenuously denied the allegations.
Robinson, however, seems to have softened his stance towards Islam, as depicted in the BBC documentary on his transformation 'When Tommy Met Mo.'
However, as 'moderate' groups have been reluctant to work with him, Robinson has launched Rebel Media, which claims to be a "fearless source of news, opinion, and activism that you won't find anywhere else."
You can share this story on social media: