Far-right's Tommy Robinson gets football ban for waving 'F**k ISIS' flag at Euro 2016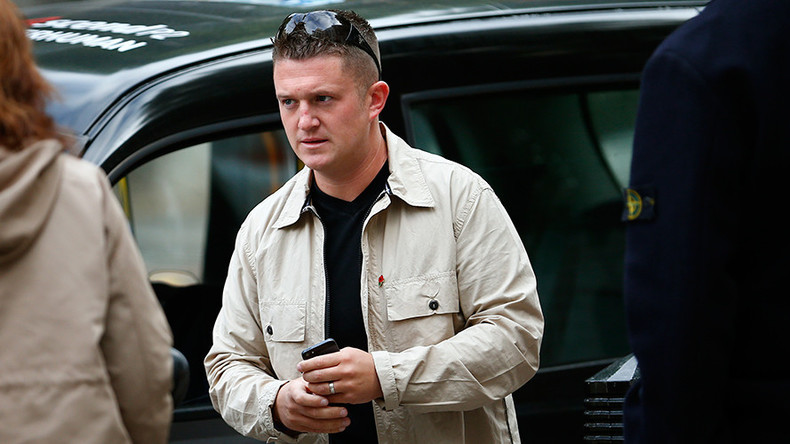 Far-right activist Tommy Robinson is complaining on Twitter after being served with a football banning order for showing up at Euro 2016 waving a "F**k ISIS" St. George's Cross flag.
Robinson, who is a convicted football hooligan, tweeted that Bedfordshire Police visited his Luton home while he was in France to serve him with the order.
Bedfordshire Constabulary claims that Robinson, who has a long history of Islamophobia, was seeking to incite racial hatred against Muslims.
Robinson was a co-founder of the English Defence League, a far-right group that protested against the perceived 'Islamization' of Britain.
A statement released by his lawyer, Alison Gurden, said Robinson denies that he was trying to incite anti-Muslim hate.
"Both I and my client are very concerned that the Chief Constable of Bedfordshire Police and the UK Football Policing Unit have equated Tommy Robinson's demonstration against a banned extremist terrorist organisation as being the same as showing hatred towards people of the mulsim faith [sic]."
Gurden, of 1 Gray's Inn Square Chambers, went on to describe the banning order as "an attack on Tommy Robinson's freedom of speech and association."
A champion of the far-right, Robinson was convicted of leading a street brawl with 100 football fans in July 2011.
He yelled "EDL till I die" while encouraging Luton Town hooligans as they clashed with Newport County fans.
Despite his own history of aggression, Robinson has been quick to describe Islam as a religion of violence.
During a 2011 speech he blamed all Muslims in the UK for the 7/7 London transport bombings, which killed 52 commuters.
Following the murder of British Army soldier Lee Rigby by Islamic terrorists Michael Adebolajo and Michael Adebowale, Robinson went a step futher.
"Islam is not a religion of peace. Islam is fascist and it's violent and we've had enough!"
Gurden said her client will appeal against the football banning order, arguing there is no evidence he has been involved in any football disorder for the past five years.