Sex abuse & sham marriages: Reality for Eastern European women trafficked to Scotland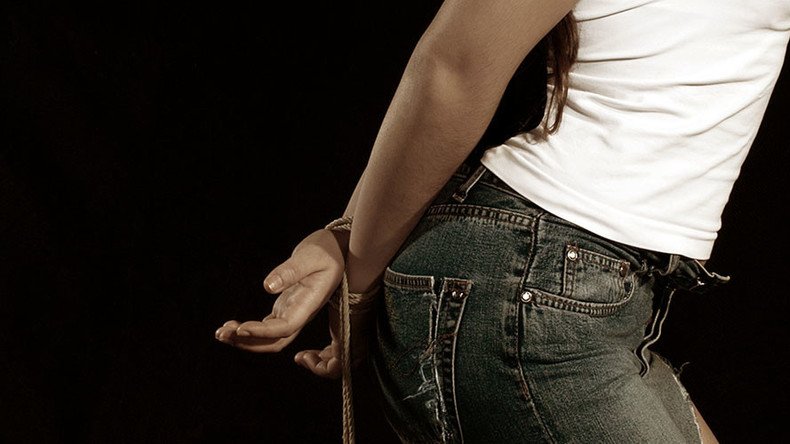 Women from Eastern Europe are being smuggled into Scotland for sexual exploitation and sham marriages at the hands of human traffickers, according to a new documentary.
Undercover BBC journalist Sam Poling traveled to Slovakia to expose how Eastern European criminal gangs are trafficking young women to Scotland for them to marry third-country nationals, mainly Pakistanis, seeking UK residency.
In order to be eligible for UK residency, applicants must marry someone with EU citizenship.
According to Angelika Molnar, who runs Europol's human trafficking unit, women in countries such as Romania and Slovakia are being persuaded to move to the UK with the false hope of having a well-paid job and accommodation.
"It's only upon arrival that they are told there is no work available and they have to be engaged in marriages with Pakistani men," she said.
Molnar claimed the women are then exploited by their husbands and the traffickers.
"After the marriage, the women are kept under control by the traffickers and are exploited as domestic service by the husband but also raped and sexually exploited by fellow nationals of the traffickers," she said.
The documentary, 'Humans for Sale,' found that on one occasion a Slovakian girl had been trafficked and sent back to Scotland up to three times.
Poling went to Slovakia to meet some of the girls who had returned from Scotland after being rescued.
The investigative journalist had fixed a meeting with one of them, but as she set out for the interview she discovered the girl had gone missing.
According to the girl's parents, she had been trafficked back to Scotland, her baby daughter left behind.
Jim Laird, former head of trafficking services at the charity Migrant Help, told the BBC there is a clear link between Eastern European traffickers and Asian criminal gangs in Glasgow.
Yves Ogou, who describes himself as a social worker aiding victims of trafficking in both Scotland and Slovakia, said Glasgow is specifically targeted by Slovakian traffickers because of historical links with the Roma community and traffickers' acquaintances with third-country nationals.
"Those people used to go to Glasgow because the first Roma community from here tried to move to Glasgow, Manchester, Bradford and so on," Ogou said.
"That's their first contact and the traffickers, they have friends, they are friends to people from western Africa, people from Afghanistan, Pakistan, India and so on."
To try and prove the criminal activity, Poling looked through marriage records. Among the suspicious material, she found young Eastern European brides being wedded to Asian grooms, as well as addresses being used for multiple marriages, yet with little indication the properties are actually inhabited.
Poling also found that 40 percent of such couples who had married five years ago – the cut-off date to get a UK passport – have now divorced.
Laird said that traffickers are seldom held to account in courts as people who are supposed to give evidence are concerned about their own safety and that of their family back home.
"There's no prosecution because people are too frightened to be witnesses in trials, they're worried about their own personal safety, but they're also worried about their family's safety back at home.
"Some of them quite frankly are embarrassed because they've been conned," he added.
"They've been sold a dream, believed it and came here, and when they found out what has happened to them, they just want to disappear as quietly as possible and go back to their own country."
Laird claimed there are many more people being trafficked than the 150 reported as victims in Scotland last year, saying the trade affects "millions" – "thousands" in Scotland alone.
You can share this story on social media: