Claims and counterclaims over 'dark money' trail leading from HSBC to the Tories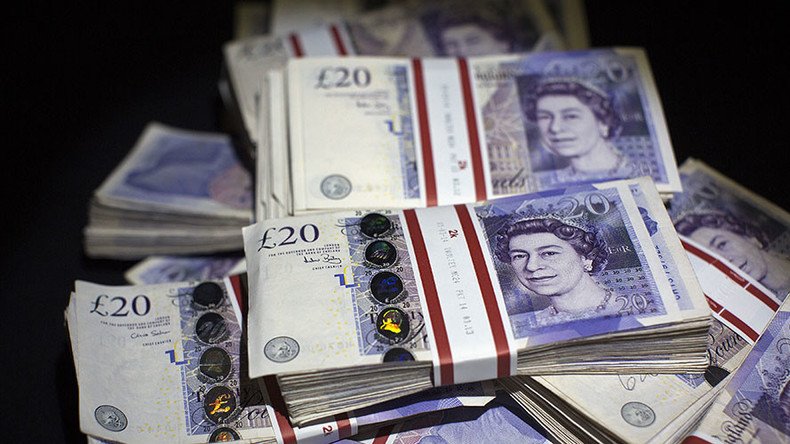 Accusations the Conservative Party received "dark money" to fund its election campaign from a struggling firm backed by banking giant HSBC have been put in doubt.
Documents reveal HSBC awarded a £214.2 million ($276.3 million) loan to IPGL – a company owned by then-Conservative Party treasurer and chief fundraiser, Michael Spencer – in October 2008, at the height of the financial crisis.
The Canary investigative news site says despite the company being in some financial distress, IPGL was donating between £500,000 and £1.1 million a year to the Tories, and gave £1.03 million to the Conservatives' 2010 election campaign.
Over £18,000 was given directly to Cameron, which paid for him, Chancellor George Osborne and four unnamed others to fly by private jet to the World Economic Forum in Davos, Switzerland.
Other money was spent on the Conservative Party's 2015 election campaign, the EU referendum, and £20,000 was used on Theresa May's 2016 campaign for the party leadership.
According to Scottish National Party (SNP) MP Roger Mullin, a total of £5 million was "laundered directly to the Conservative Party Headquarters."
In a letter to Claire Bassett, the chief executive of party and election finance at the Electoral Commission, Mullin called for an "urgent investigation" into the funds.
He asked whether HSBC and IPGL informed the Electoral Commission of the donations to the Tories during the period of the loan. He is also calling on the commission to explain its policy concerning bank loans to companies in distress which are then "laundered" to political parties.
The Electoral Commission wrote back to Mullin on Wednesday saying companies had no obligation to disclose loans and it had seen no evidence of any breaches of the Political Parties, Elections and Referendums Act (PPERA), which governs the rules on donations.
"As we have not been presented with evidence that a breach of PPERA has occurred, we will not be taking further action in this matter."
Claims a 'dubious conspiracy' - BuzzFeed News
An investigation by BuzzFeed News, which analyzed IPGL's public records casts doubt on the alleged scandal.
BuzzFeed says one part of The Canary's story is correct: Electoral Commission records show IPGL donated a total of £4.3 million in cash, prizes and other contributions to the Tories and its MPs.
While IPGL did borrow from HSBC, as The Canary says, the company paid the loan back, rather than drawing more. By the time the company filed its 2008 accounts it had reduced total borrowing from £352 million to £250 million, and by February 2010 it had paid back more than £80 million of its HSBC loan, Buzzfeed says.
"[All the charges being paid back] is absolutely crucial with regard to the allegations being made about HSBC and the company: The Canary's theory relies on the loans from HSBC to IPGL being unusual – they weren't – and on the loans not being repaid. Neither of these things is true."
BuzzFeed adds that IPGL has made profits in the years since 2010, meaning the company generates enough money on its own to donate as it wishes.
That does not mean the money from the HSBC loan was used for a donation, Buzzfeed says, but neither The Canary nor Mullin have offered any evidence for collusion between IPGL and HSBC.
It is also unclear why Spencer would want to get involved in a complex backdoor means of donating, it says. Spencer is a multi-millionaire able to donate in his own right. HSBC, as a UK company, was also eligible to donate to the Conservatives directly.
BuzzFeed also argues IPGL was not in "financial distress" in 2008 and 2009. It says even in loss making years, donations were small compared with IPGL's revenues, which were £100 million in 2008 and £120 million in 2009.
HSBC: 'We are politically neutral'
At HSBC's annual meeting last week, Chairman Douglas Flint was asked by Move Your Money's Fionn Travers-Smith about its "covert political donations" through IPGL.
Flint said he could not comment on specific companies.
"We are not going to talk about individual companies at all. So the assertions […] made about an individual company and whether a loan was used to onwards send to a political party is something we cannot comment upon."
He added: "We are politically neutral."
Last month, an independent investigation revealed the Conservative Party was in breach of the rules governing election spending a number of times in recent years.
A report by the Electoral Commission found "numerous failures" in the Tories' expenditure declarations during three by-elections in 2014 and in the 2015 general election.
The commission has referred a potential criminal offense over declarations of spending to the Metropolitan Police.
You can share this story on social media: