Union Jack flown at Battle of Waterloo found in shoebox
Published time: 3 May, 2017 15:15
Edited time: 5 May, 2017 07:52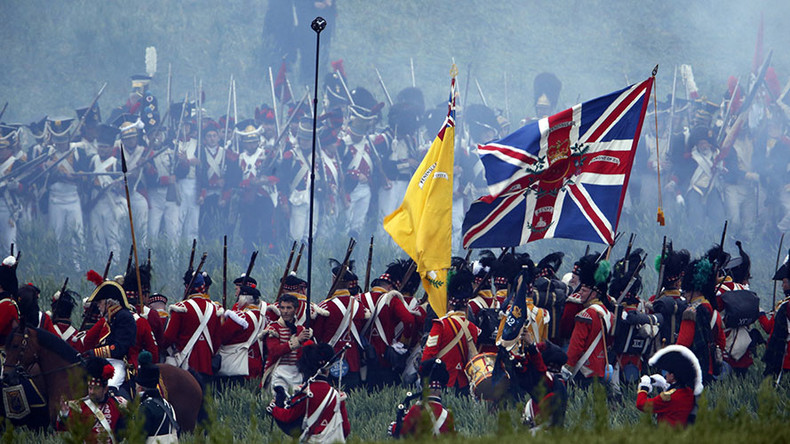 A rare Union Jack banner flown by the Coldstream Guards at the Battle of Waterloo has been found in a shoebox by an east London window fitter.
The battered colors were flown at the key Battle of Hougoumont Farm on June 18, 1815.
By vanquishing the French as part of a multinational coalition, British forces at Waterloo decided the future of Europe and assured UK imperial preeminence for decades to come.
The battle, fought at high stakes, was said by the British commander Arthur Wellesley – better known as the Duke of Wellington – to be the "the nearest run thing you ever saw in your life."
The flag belonged to the Coldstream Regiment of Foot Guards – which still exists as the 1st Battalion, the Coldstream Guards – and was sold to an east London collector in a US auction for £500 (US$645).
Window fitter Gary Lawrence deals in military antiques as a sideline, and told the Times he had no idea he was buying the original flag flown at Waterloo.
"We deal a lot in Napoleonic items and had no idea what this would be," Lawrence told the Times.
"It was really fragile, it's a very early flag and was described as fragments so we had no idea how much of the flag there'd be.
"We laid it out on a board – it took three days to put together – and found it was a flag from Waterloo, of which there are virtually none in existence," he said.
He had originally planned to use the colors to restore other antique flags, before realizing the significance of his find.
While some sections are mere torn fragments, most of the flag is present. Lawrence laid out the 7ft by 7ft item with the help of a team from London's Victoria and Albert Museum.
If restored, the flag could be worth hundreds of thousands of pounds.