Massive French flag captured by Nelson's fleet to go on display after 100yrs
Published time: 16 Feb, 2017 16:46
Edited time: 17 Feb, 2017 13:42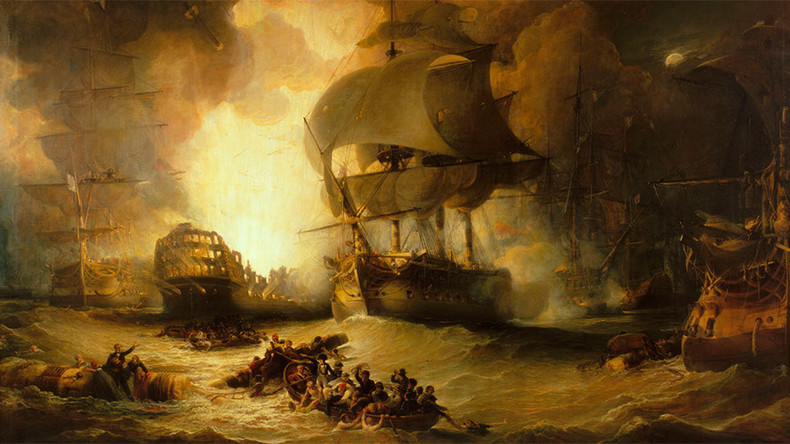 A massive French flag captured by British maritime legend Admiral Nelson will go on display in Norwich, although the museum has had trouble finding a space big enough to unfurl it.
The ensign of the warship 'Le Genereux' will go on display for the first time in over a century.
It resides in Norwich having been donated for posterity by Admiral Horatio Nelson, who was a local man, and one Captain Edward Berry, whose crew captured it.
It is roughly the size of a tennis court, at 16 metres by 8 meters, and is far older than the ship itself having been flown for a century before being captured.
'Le Genereux' was one of just two French vessels to escape the Battle of the Nile in August 1798, only to be captured 18 months later near Malta by Berry's ship 'HMS Foudroyant'.
The captured ensign was then taken down to signify she was no longer in battle.
'Le Genereux' became a Royal Navy ship for a time before being broken up, but the flag survived with a section of hoist rope still showing an original French nail from the vessel.
"We want to display the ensign sensitively and fully conscious of the terrible toll these sea battles took on the men involved, friend and foe alike," Ruth Battersby-Tooke, who curates at Norwich Castle, told the Times.
Among the challenges is "finding a space large enough to unroll the flag," she added.
The Norfolk Museums Service and the Costume and Textile Association are trying to raise the £40,000 (US$50,000) for restoration before the flag goes back on display at Norwich Castle in summer 2017.