Brexit will not be quick & painless, EU's chief negotiator warns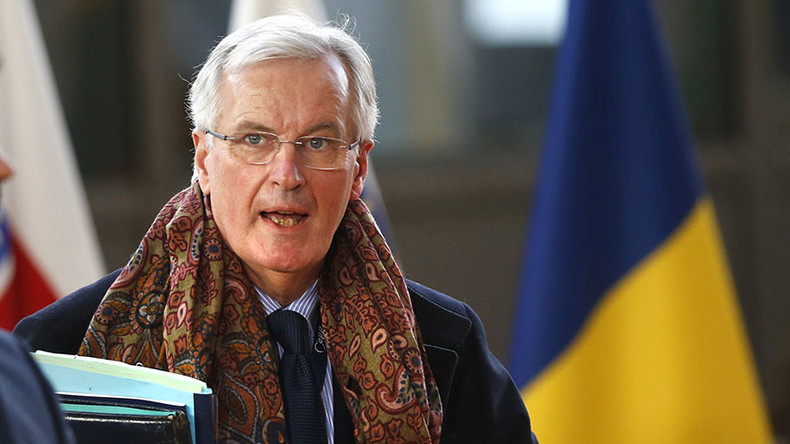 The EU's chief negotiator, Michel Barnier, has dismissed British "illusions" that Brexit will be quick and painless, while laying down a series of demands on citizens' rights and a hefty financial settlement he says is just about settling accounts.
Unveiling his first detailed vision of how talks with the UK will take shape in Brussels, Barnier said: "Some have created the illusion that Brexit would have no material impact on our lives or that negotiations can be concluded quickly and painlessly. This is not the case.
"We need solutions, we need legal precisions and this will take time."
Barnier said the opening phase of negotiations would focus on the financial settlement, the status of expatriate citizens and the need to avoid a hard border between Ireland and Northern Ireland.
He insisted the "divorce bill" was not a punishment for the UK leaving, but a "settling of accounts."
He said Britain would have to honor its commitments and hinted that would entail paying for a number of EU programs, citing the example of aid pledges Brussels has made to Ukraine.
"The UK will have to respect in a single financial settlement which will cover all the financial relations between the UK and the EU, all the commitments that they've entered into as a member of the union.
"This is not a punishment nor is it an exit tax of some kind. The union and the UK have mutual commitments. We decided these programs together, we benefit from them together, and we finance them together. That money is committed."
The comments come amid reports Britain could be hit with a £84.5 billion (US$110 billion) bill, a sharp increase on previous estimates. Britain's Brexit secretary David Davis responded by saying Brussels will get only what it is legally owed, and nothing more.
Barnier's demands on the rights of citizens – which cover Europeans currently living in the UK but also those who have done so in the past and will in the future – are likely to cause serious issues for Prime Minister Theresa May, who has pledged to end freedom of movement.
On a deal on citizens' rights, Barnier said it must include "the rights related to the labour market, access to education, access to healthcare and recognition of diplomas and or qualifications. All those rights have to be protected and guaranteed on the basis of the law of the union guaranteed by the court of justice of the EU."
These rights would apply "for life" and would extend to "protect those who reside in the UK, have done in the past, who will in the future and members of their family."
"It's to cover people who arrive tomorrow morning and up to the day of Brexit so that these people acquire the five years necessary to be a permanent resident," he added.
"I'm determined to ask for their rights to be covered as per my negotiating mandate including for the category of people who are not there yet but who arrive before Brexit."
Barnier's press conference comes as relations between the two sides are turning increasingly sour, following leaks of a meeting last week with Barnier, European Commission President Jean-Claude Juncker and UK PM May at Downing Street, in which EU representatives were said to have been shocked by the British leader's approach to the talks.
Barnier on Wednesday further hinted at Brussels' exasperation with Britain, saying the UK government is not "ready" to start the negotiations 10 months after the referendum.
"The UK's decision to leave the EU has now caused 10 months of uncertainty. We need to remove that uncertainty.
"It's high time to start negotiating. As soon as the UK is ready to come to the table we shall start negotiating. The clock is ticking."