Whitehall terrorist suspect identified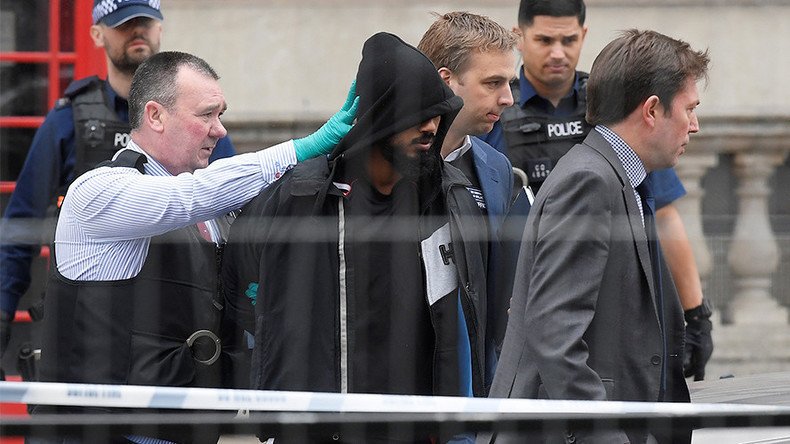 A terrorist suspect who was arrested by armed police as he was carrying a "bag of knives" through Westminster on Thursday has been named as Mohammed Khalid Omar Ali.
The 27-year-old was detained as part of an intelligence-led operation and had been tracked by MI5 for possible ties to Islamic State (IS, formerly ISIS/ISIL), after a concerned family member is believed to have contacted the police.
The man, who is understood to have been born overseas and lived in South East London, was detained outside the Treasury, just yards from where five people were killed in a terrorist attack by Khalid Masood last month.
Dramatic pictures show police pinning the suspect to the ground as three large knives and a discarded rucksack featuring the Union flag with the word 'London' on it lie on the pavement next to him. Witnesses said he appeared calm as the officers moved in.
It is thought that he was headed towards Downing Street after emerging from St James' Park Tube station, according to the Telegraph.
Metropolitan Police say the man was arrested under the Terrorism Act and for being in possession of offensive weapons. It is believed that he was acting as a 'lone wolf' and he remains in custody.
The Met says two other addresses in London are currently being searched as part of the investigation.
"I want to reassure the public that our increased activity to combat terrorism over the last two years continues – both by police and security services," deputy assistant commissioner Neil Basu told journalists on Friday morning.
"Activity continues around the clock to identify and stop these threats and we are making arrests on a near daily basis," he added.
Just hours after the suspect was detained, a separate investigation saw police shoot and injure a woman in her 20s at a London address in a counter-terrorism raid.
Local residents reported hearing gunshots as heavily armed officers swooped down on the terraced house in Willesden on Thursday evening. The woman, who is in a "serious but stable" condition, has not yet been arrested due to her condition, but is one of the subjects of the investigation. She remains in the hospital under police guard.
Six people have been arrested as a result of the investigation.
You can share this story on social media: