Man carrying bag of knives near UK Parliament arrested under Terrorism Act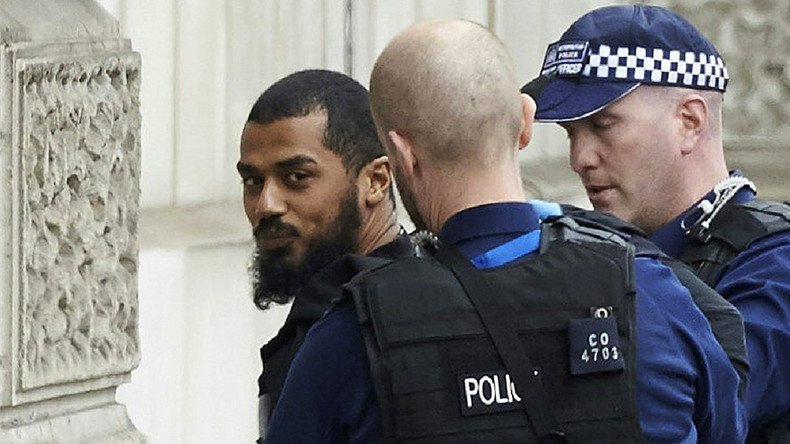 A man has been arrested under the Terrorism Act after he was found carrying a bag of knives near the Houses of Parliament, the Metropolitan Police has confirmed.
Armed police cordoned off part of Whitehall on Thursday afternoon after the man was tackled and arrested by police "following a stop and search as part of an ongoing operation."
There are some suggestions he was known to police.
The man, in his 20s, was arrested on suspicion of possession of an offensive weapon and on suspicion of the commission, preparation, and instigation of acts of terrorism.
He is being held in custody at a south London police station.
Detectives are continuing their investigation and as a result of the arrest there is no immediate known threat, police say.
Photos shared on social media show a large knife lying on the pavement on Parliament Street next to a smaller knife, and a policeman in forensic gear taking photographs of a bag abandoned next to them.
The suspect was reportedly wrestled to the ground on a traffic island at the Parliament end square of Whitehall, close to the Foreign Office and the entrance to Downing Street.
He was seen pinned up against the wall of the HMRC offices before being taken away in a police vehicle.
Eyewitnesses told the Evening Standard a man had been carrying "a rucksack of knives."
Luke William told the newspaper he was driving past as police flooded the area. "There was a man being held against the wall by armed police. On the floor was a backpack with knives falling out of it."
Photos showed a police cordon surrounding the bag, which had been discarded on a road traffic island.
The Metropolitan Police say are no reports of injuries.
Traffic was brought to a standstill northbound on Parliament Street as police detained the man.
A number 10 spokesperson said: "This is an ongoing police operation and we are monitoring it.
"The Prime Minister has been informed by officials and she will be updated, as usual for incidents like this."
The incident occurred just yards away from where Khalid Masood launched a terrorist attack that killed five people, including police officer Keith Palmer, last month.
Masood crashed his car into pedestrians on Westminster Bridge, before stabbing Palmer to death on the forecourt of the Palace of Westminster.
In a tweet, Transport for London (TfL) said the area was closed due to a police incident, and that long delays should be expected.
You can share this story on social media: