British students launch hunger strike in solidarity with Palestinian prisoners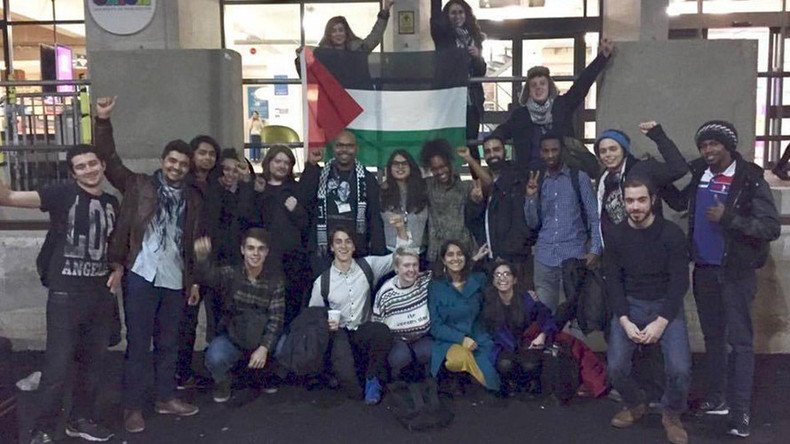 A group of students at Manchester University are on a hunger strike in solidarity with Palestinian political prisoners. Their action comes as students' unions across the UK face growing scrutiny over the lawfulness of their anti-Israel stance.
The five hunger strikers said their protest is in solidarity with imprisoned Palestinians. They are also demanding that their university refuse to work with companies seen to be aiding the Israeli state.
They are further calling for disciplinary charges to be dropped against two students for their role in the Boycott, Divestment and Sanctions (BDS) movement.
The protests against Israel's treatment of Palestinians has led some Jewish students to sense growing anti-Semitism on campus.
Devora Khafi from Queen Mary University of London is part of the 10,000-strong Jewish student community in the UK. She says she sought counseling as a result of strong pro-Palestinian sentiment on campus.
She told the BBC's Victoria Derbyshire program she thinks her connection to Israel has made people confrontational towards her.
"If I ever express a viewpoint in class or on social media, I get comments, in public or private," she told the BBC.
"It has been hard. It's been two years of constant fighting for our freedom of speech, our rights, our well-being. I've missed deadlines, I've had counseling, I've had anxiety episodes."
Students' unions have been registered as charities since 2010, meaning they have a legal duty to represent their members.
Any statements they make must be relevant to matters affecting the student body only.
Now the Charity Commission is assessing whether taking an official anti-Israel stand could be illegal.
Students' unions supporting the BDS movement include Belfast, Birkbeck, Brunel, Essex, Exeter, Goldsmiths, King's College London, Kingston, Lancashire, Liverpool, Manchester, SOAS, Strathclyde, Sussex, Swansea, University of Arts London, and UCL.
London's School of Oriental and African Studies (SOAS) students' union was one of the first to embrace the BDS movement after a referendum in 2015.
Sai Englert, a Jewish PhD student at SOAS and a member of the university's Palestine Society, said: "The idea that somehow supporting BDS, supporting boycott etc. is a blanket boycott on individuals I think is very dangerous. It's not.
"It's about saying 'we don't want institutional links, economic links, political links with institutions, governments, companies that are complicit in attacks on rights,'" Englert remarked, according to the BBC.
Protests are expected at SOAS on Thursday against a visit by the Israeli ambassador to the UK, Mark Regev, to discuss potential peace solutions in the Israeli-Palestine conflict.
A letter signed by 150 students and staff from SOAS and other institutions across the UK addressed to university director Valerie Amos has urged her to intervene to stop the meeting taking place.
"We fear that if this provocative event proceeds as planned, it will cause substantial distress and harm to many of our students and staff who are, have been or will be affected by the actions of what a recent UN report refers to as the Israeli 'apartheid regime,'" the letter read.
You can share this story on social media: