Trump & Putin must work together to fix Syria crisis, says Corbyn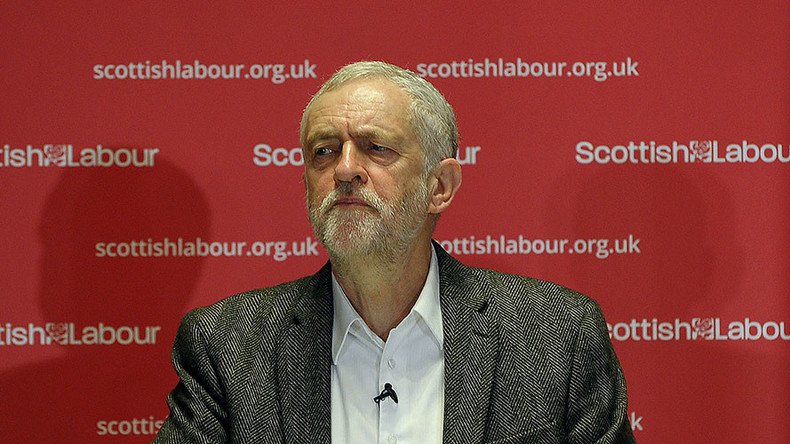 Russia and the US must join forces to tackle the crisis in Syria, Labour Party leader Jeremy Corbyn has said, as G7 countries meet to discuss the recent alleged chemical attack and US retaliatory missile strike.
Speaking at a public event at the Federation of Small Businesses, Corbyn said US President Donald Trump should engage with Russian President Vladimir Putin to find a political solution to the six-year Syria conflict.
While singling out Trump, Corbyn also called on G7 countries to "engage rapidly" with Russia.
"I hope that whatever comes out of the G7 today is an agreement they will engage rapidly with Russia, rapidly with all the neighboring countries who clearly are not in the G7, and reconvene, as a matter of urgency, the Geneva process and have a meaningful ceasefire," Corbyn said.
"Putin and Trump have got to get together. They are the superpowers of the world.
"Vladimir Putin can be forced into all sorts of directions if sufficient political and other pressure is put on him."
G7 leaders met in Italy on Tuesday to discuss the recent alleged chemical attack on the rebel-held town of Khan Sheikhoun in Idlib province that killed 89 people, and the US retaliatory missile strike against a Syrian airbase.
The meeting was also aimed at finding a consensus among the G7 nations on a solution to Syria before US Secretary Rex Tillerson arrived in Moscow.
The nations are calling on Russia to pressure Syrian leader Bashar Assad into respecting ceasefire agreements.
"We think the Russians have the leverage that is needed to put pressure on [Assad] and to get him to observe the commitments with regard to the ceasefire," Italian Foreign Minister Angelino Alfano said, the BBC reports.
The foreign ministers attending the G7 meeting, however, failed to reach a consensus on a proposal by UK Foreign Secretary Boris Johnson to impose sanctions on Russian and Syrian military chiefs over the alleged chemical attack.
Alfano added the group thought it would "be wrong" to put Putin into a corner and called for dialogue instead.
Johnson recently canceled a visit to Moscow to meet his counterpart for the first time in the wake of "Russia's continued defense of the Assad regime."
"We call on Russia to do everything possible to bring about a political settlement in Syria and work with the rest of the international community to ensure that the shocking events of the last week are never repeated," Johnson said, according to the BBC.
The Russian Foreign Ministry responded by saying the UK has no position of its own when it comes to current affairs.
"We do not feel that we need dialogue with London any more than it does," it added.
You can share this story on social media: