May rules out military action in Syria after belligerent Boris touts war
Published time: 6 Apr, 2017 11:05
Edited time: 7 Apr, 2017 09:57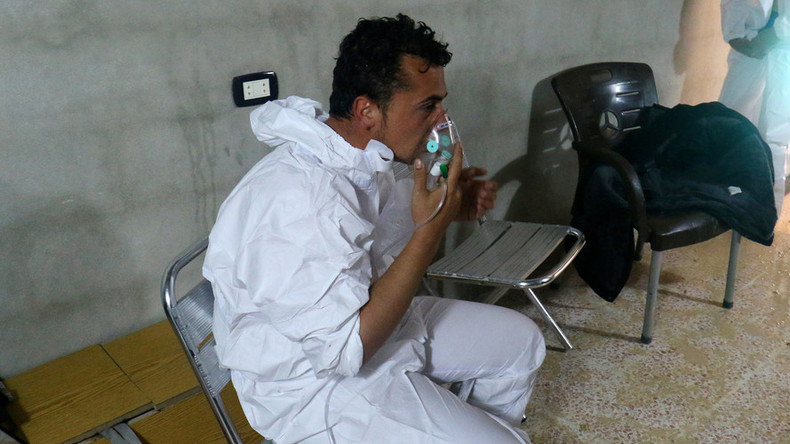 No one is talking about taking military action in Syria, Prime Minister Theresa May assured after British Foreign Secretary Boris Johnson claimed he would like to see those responsible for Tuesday's gas attack "pay the price."
Johnson made his comment after a suspected mix of sarin and chlorine gas killed up to 100 people in the town of Khan Sheikhoun in northwest Syria.
The US claims a Syrian plane dropped the gas, while the Syrian government claims its air force hit a rebel storehouse containing chemical weapons.
"I'd like to see those culpable pay a price," Johnson told an audience at a Syrian aid conference in Brussels on Wednesday.
"I certainly do not see how a government like that can continue to have any kind of legitimate administration over the people of Syria," he said.
Asked about the prospect of British military involvement in Syria, a government official accompanying May on her tour of the Gulf States told the Daily Mail that "nobody is talking about that."
In his address, Johnson said "the people of Syria are today paying the price for our collective inaction over the last five years and decisions we took.
"We cannot now undo those mistakes, but we can and must work together to alleviate their suffering."
The UK is already militarily involved in Syria, hitting Islamic State (IS, formerly ISIS/ISIL) with airstrikes and, despite stock denials from the UK government, providing special forces.
The likelihood of the UK ramping up its military operations against the government of President Bashar Assad appears slim.
Also on Wednesday, an emergency meeting of the UN Security Council descended into an argument between Russia and Britain about their respective aims in Syria.
"What is your plan? What is your plan to stop these horrific senseless attacks? We had a plan and we had the support and you rejected it to protect Assad," UK Ambassador Mark Rycroft said, accusingly.
Russia's deputy ambassador to the UN, Vladimir Safronkov, fired back: "In Syria, do you carry any sense of responsibility? No, you don't."
"Everything is guided by the need to change the regime. Even this obsession with the regime change is what hinders the work of the Security Council."[The UK] is not doing anything about the situation [in Syria]," he said.