'Can't apologize for telling truth': Suspended ex-London Mayor Livingstone avoids Labour expulsion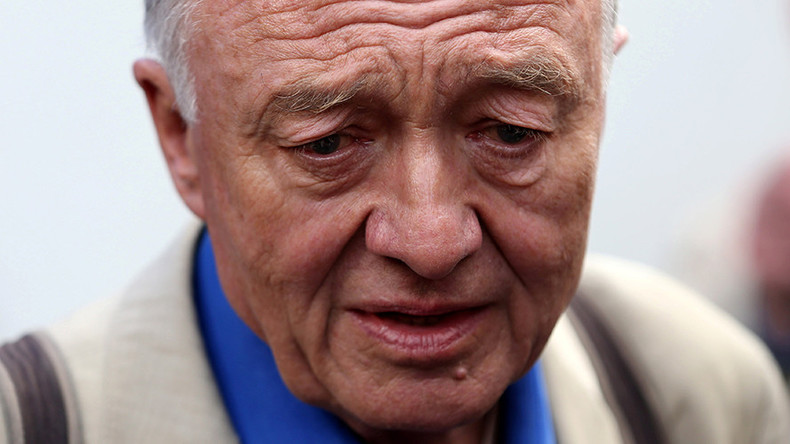 A Labour Party committee upheld the charges leveled at Ken Livingstone for his comments about the links between Hitler and Zionism last year, but did not expel the former mayor of London from its ranks. The time-limited sanction has provoked outrage from Jewish groups.
Following two days of legal and historical deliberations behind closed doors, the National Constitutional Committee found the 71-year-old, who had been suspended from the party since April 2016, guilty of three counts of conduct that is "prejudicial or… grossly detrimental to the party." Livingstone, who says that has no plans to return to frontline politics, is barred from holding any position in the party, or running as a Labour candidate until April 2018.
In the wake of the hearing, an unrepentant Livingstone told the media that proceedings resembled "sitting through a court in North Korea," and complained that "natural justice" had not been done, and said that those who called him "anti-Semitic" and a "Nazi apologist" should have gone in front of the panel instead.

"If I'd said Hitler was a Zionist, I would say sorry. You can't apologize for telling the truth. I apologize for the offence caused by those Labour MPs who lied," insisted Livingstone, who said that he was smeared due to his connections with Labour Party Leader Jeremy Corbyn, by the latter's political opponents.
'Hitler-Zionist collaboration' controversy
In his original remarks last year, made in defense of Naz Shah, a Labour MP also accused of anti-Semitism, Livingstone claimed that Hitler "was supporting Zionism before he went mad and ended up killing 6 million Jews."
Instead of retracting his comments, Livingstone, who led the Greater London Council in the 1980s and served as the city's mayor between 2000 and 2008, has tried to clarify his views, focusing on the 1933 Haavara agreement between Zionist German Jews and the Nazi authorities, which enabled some to emigrate to present-day Israel, and transfer some of their assets out of the country.
"[Hitler] didn't just sign the deal. The SS set up training camps so that German Jews who were going to go [to Palestine] could be trained to cope with a very different sort of country when they got there," Livingstone said last month.

"He passed a law saying the Zionist flag and the swastika were the only flags that could be flown in Germany… Of course, they started selling Mauser pistols to the underground Jewish army. So you had right up until the start of the Second World War real collaboration."
Suspension a 'slap on the wrist'
The Jewish Labour Movement, which had submitted a 178-page report to the panel challenging Livingstone's version of history and criticizing his "disparaging, inaccurate and out-of-context comments," said that Tuesday's decision was a "betrayal" of the party.

"This punishment is totally insufficient. They don't match the leadership's commitment to zero tolerance on anti-Semitism. They imply a revolving door policy in which you can revise the history of the Holocaust, sit quietly for a year then come back and do it all again," said Jeremy Newmark, the chair of the Jewish Labour Movement.
"Mr Livingstone's inaccurate and antagonistic comments including over the past 40 years have had a huge impact on the Jewish community," said Simon Johnson, the chief executive of the Jewish Leadership Council.

In excess of 20 Labour MPs, who had called for Livingstone to be expelled, expressed their unhappiness with the suspension, with Anna Turley calling it "weak and shameful" and Lisa Nandy calling the decision a "sad day" for the Labour Party.