Could 'miracle' material graphene finally have a use by making seawater drinkable?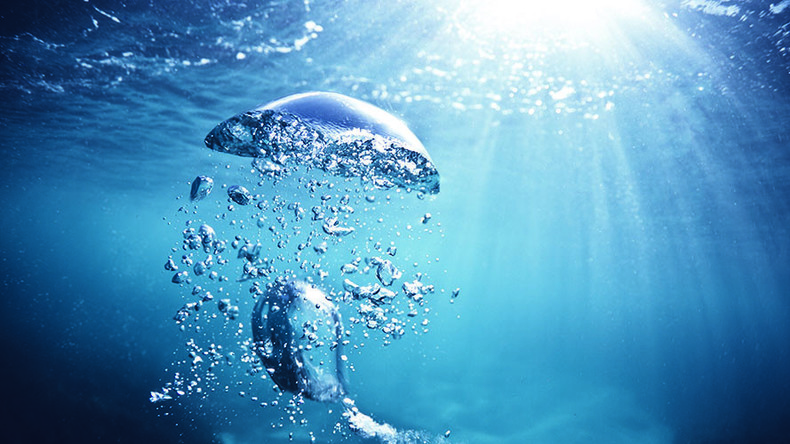 Water, water everywhere, but not a drop to drink? The Rime of the Ancient Mariner may soon be left redundant now that scientists have devised a sieve made of 'miracle material' graphene capable of removing salt molecules from seawater, rendering it safe to drink.
When it was discovered by Andre Geim and his colleague Konstantin Novoselov, physics professors working at Manchester University around 2004, graphene was hailed as a ground-breaking discovery, with the media calling it a "wonder material."
The Guardian once suggested it "could change the world" because theoretically the unique properties of the thinnest material on Earth could allow it to carry 1,000 times more electricity than copper and thus make it a replacement for silicon in computer chips.
Graphene is also thought to be 150 times stronger than the equivalent weight of steel, effectively making it the strongest-measured material in existence.
It is also as flexible as rubber and can stretch to more than 100 percent of its length.
It seemed, however, that no one could find a real everyday use for graphene – until now, that is.
Graphene finally appears to have found its scope in the world as a UK-based group of researchers used it to produce a filter that could offer a solution to millions of people dying of thirst.
The Manchester University researchers developed a graphene oxide membrane that is able to sieve nanoparticles and organic molecules. Earlier designs were only capable of catching larger salts.
It was previously believed that single-layered graphene membranes would be too expensive to produce for the purposes of distillation. However, lead researcher Rahul Nair says graphene oxide is easily produced in a laboratory.
"In terms of scalability and the cost of the material, graphene oxide has a potential advantage over single-layered graphene," Nair said, according to the BBC.
Nair stressed the importance of the pores being just the right size to capture the salt molecules while releasing the water ones.
"To make it permeable, you need to drill small holes in the membrane.
"But if the hole size is larger than one nanometre, the salts go through that hole.
"You have to make a membrane with a very uniform less-than-one-nanometre hole size to make it useful for desalination.
"It is a really challenging job," he added.
The graphene oxide membrane previously showed signs of swelling when dipped into water, meaning smaller salts could still permeate. By adding walls of epoxy resin on either side of the membrane, however, scientists found they could stop the pores expanding.
"This is our first demonstration that we can control the spacing [of pores in the membrane] and that we can do desalination, which was not possible before.
"The next step is to compare this with the state-of-the-art material available on the market."
Up to 14 percent of the world's population will struggle with water supply by 2025, according to the United Nations. WaterAid claims one in 10 people already live without safe water.
As climate change takes its toll, more countries are likely to consider investing in desalination technologies.
Desalination plants currently use polymer-based membranes. However, it is hoped that graphene oxide will prove more efficient, scaling up water distillation around the world, especially in poor regions where such facilities are prohibitively expensive.
Following news of the ground-breaking research, Ram Devanathan, from the Pacific Northwest National Laboratory in Richland, US, said more work needs to be done to produce the membranes inexpensively on an industrial scale.
Writing in the Nature Nanotechnology science journal, Devanathan said: "The selective separation of water molecules from ions by physical restriction of interlayer spacing opens the door to the synthesis of inexpensive membranes for desalination."