'Don't lose your cool': Spain jibes Britain over Gibraltar 'war' threats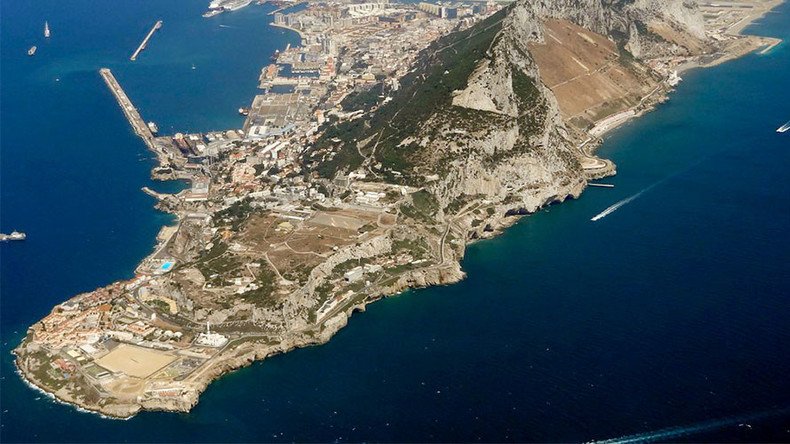 Spain is urging Britain not to lose its "composure" over Gibraltar, after a group of "sabre-rattling" Tories warned the UK would be willing to go to war over the territory.
Spanish Foreign Minister Alfonso Dastis said he was surprised by the response from Britain after the Brexit negotiating guidelines – which said a deal applying to Gibraltar could be vetoed by Spain – were released on Friday.
"The Spanish government is a little surprised by the tone of comments coming out of Britain, a country known for its composure," Dastis told a Madrid conference.
"Comparing Gibraltar with the Falklands is taking things out of context. It looks like someone in the UK is losing their composure."
Britain will wait for the final EU guidelines on Gibraltar, expected at the end of the month, before putting forward its position, prime minister Theresa May's spokesperson told reporters on Monday.
"These are draft guidelines that were issued … We will wait and see what is agreed by the 27 EU countries."
Britain's Brexit minister David Davis held a "friendly and constructive" meeting with Dastis in Madrid on Monday as part of a pre-arranged visit, the spokesman added, during which he raised the issue of Gibraltar.
On Sunday, former Tory leader Lord Howard said May would show the "same resolve" over Gibraltar as Margaret Thatcher did wresting the Falklands back from Argentina following the 1982 invasion.
"Thirty-five years ago this week, another woman prime minister sent a task force halfway across the world to defend the freedom of another small group of British people against another Spanish-speaking country, and I'm absolutely certain that our current prime minister will show the same resolve in standing by the people of Gibraltar," Lord Howard told Sky News.
Sir Michael Fallon, the defense secretary, added the UK was prepared to go "all the way" to protect the territory.
"We're going to look after Gibraltar. Gibraltar is going to be protected all the way because the sovereignty cannot be changed without an agreement of the people of Gibraltar."
UK Foreign Secretary Boris Johnson also weighed in on Monday, telling journalists as he arrived at a meeting with his EU counterparts in Luxembourg: "The sovereignty of Gibraltar is unchanged and is not going to change, and cannot conceivably change without the express support and consent of the people of Gibraltar and the United Kingdom, and that is not going to change."
Meanwhile, Spain has abandoned plans to block an independent Scotland from joining the EU amid the escalating row with Britain. Dastis said his government would not stop a future Scottish EU membership bid, giving a boost to Scottish First Minister Nicola Sturgeon.
EU negotiators stunned Downing Street on Friday by effectively backing Spain over its long running dispute with the UK over the British Overseas Territory. Gibraltar, known by its residents as 'the Rock,' situated on Spain's southern tip, has been in British hands for more than 300 years.
Its 30,000 residents voted overwhelmingly to stay in the EU in June's referendum, with 96 percent voting to remain.
Talk of war 'reeks of 19th century jingoism'
The comments by Lord Howard were immediately criticized. Shadow Foreign Secretary Emily Thornberry told the BBC: "Inflammatory comments like those by Michael Howard will not help Britain get what it needs from these difficult British negotiations."
Liberal Democrat leader Tim Farron described Lord Howard's intervention as "ludicrous," adding: "It is unbelievable that within a week of triggering Article 50 there are Conservatives already discussing potential wars with our European neighbours.
"In only a few days the Conservative right are turning long-term allies into potential enemies. I hope this isn't a sign of the government's approach to the long negotiations to come," he told the BBC.
"Brexiteers have gone from cheering to sabre-rattling for war in four days. It is absolutely ludicrous."
Jack Straw, Labour's former foreign secretary, told the Telegraph he does not believe the status of Gibraltar poses a major danger to a Brexit deal and that the suggestion of war "reeks of 19th century jingoism."
"I doubt very much Gibraltar will be a deal breaker," he told the BBC.
Former Deputy Prime Minister Nick Clegg revealed that he vetoed the appointment of Lord Howard as the UK's commissioner to the EU, adding: "Looks like we all had a lucky escape."
Gibraltar will 'not become a bargaining chip'
Gibraltar will not tolerate being a bargaining chip and will not be the victim of Brexit negotiations, the British territory's chief minister, Fabian Picardo, said.
He called on EU leaders to remove references to the territory from draft Brexit negotiations, saying Spain is bullying Gibraltar and the EU is allowing it to act this way.
He said European Council President Donald Tusk is behaving like a "cuckolded husband who is taking it out on the children" by allowing Spain to include a reference to Gibraltar in the Brexit guidelines.
In a statement, Downing Street vowed not to trade away the Rock's sovereignty in pursuit of a trade deal with the EU as the UK withdraws from the bloc.
PM spoke with the Chief Minister of Gibraltar today about our continuing support for Gibraltar as we leave the EU. https://t.co/KJ8SJUE8Hy

— UK Prime Minister (@Number10gov) April 2, 2017
"The prime minister said we will never enter into arrangements under which the people of Gibraltar would pass under the sovereignty of another state against their freely and democratically expressed wishes, not will we ever enter into a process of sovereignty negotiations with which Gibraltar is not content."
She spoke to Picardo on Sunday to tell him the UK "absolutely dedicated to working with Gibraltar for the best possible outcome on Brexit."
You can share this story on social media: