Trump was 'leader in effort to call Brexit,' claims Sean Spicer
Published time: 30 Mar, 2017 11:50
Edited time: 31 Mar, 2017 12:03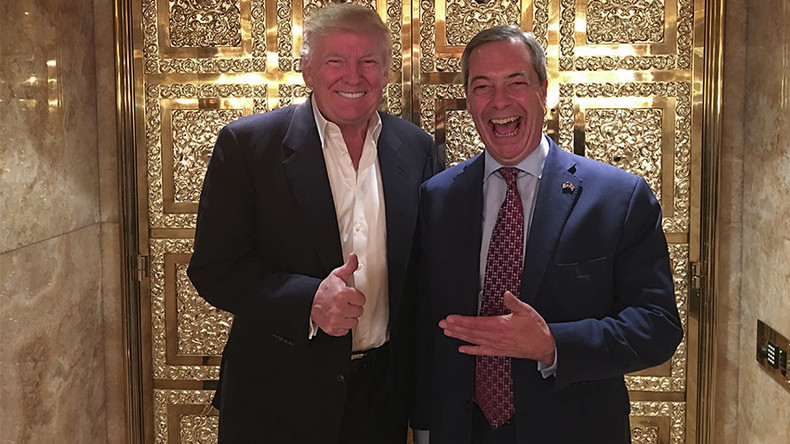 White House spokesman Sean Spicer claimed on Wednesday that Donald Trump is "very well-steeped in world affairs, especially Europe, NATO… all of the issues" and credited the US president as a "leader in the effort to call Brexit."
Trump was a consistent supporter of British efforts to leave the European Union, despite the initial confusion over what 'Brexit' actually meant.
Speaking to Michael Wolff of the Hollywood Reporter last summer, Trump seemed to suggest that he did not know the meaning of Brexit.
"And Brexit? Your position?" Wolff asked.
"Huh?" the then-presumptive Republican nominee replied.
"Brexit."
"Hmm."
After the term was explained to Trump, he replied: "Oh yeah, I think they should leave."
Trump's support for Brexit has been highly controversial.
Immediately after the result of the Brexit referendum was released, Trump flew to Scotland, where he claimed his presidential campaign had helped the Brexiteers to take "back their country."
"They're angry over borders, they're angry over people coming into the country and taking over, nobody even knows who they are," said Trump during the grand reopening of one of his Scottish golf resorts.
Scottish politicians and commentators attacked the then-presumptive Republican nominee for endorsing Brexit. Scotland overwhelmingly voted in favor of remaining in the EU.
Trump's support of the Brexit movement brought him closer to Nigel Farage, the ex-leader of UKIP.
Farage, who participated in a number of Trump rallies, was later recommended by the US president for the post of UK ambassador to the US, in breach of diplomatic conventions.
Trump reaffirmed his support for Brexit in an interview with the Times earlier this year.
"You look at the European Union and its Germany. Basically a vehicle for Germany. That's why I thought the UK was so smart in getting out," he said.
He also said he expects other countries to withdraw from the EU following Brexit.
"I believe others will leave. I do think keeping it together is not going to be as easy as a lot of people think," he added.
Speaking to the Financial Times, President of the European Commission Jean-Claude Juncker criticized these remarks as inflammatory and threatening the security of the European continent.
"Do not invite others to leave, because if the EU collapses, you will have another war in the western Balkans."
"The only possibility for this tortured part of Europe is to have a European perspective. If we leave them to themselves — Bosnia and Herzegovina, Republika Srpska [Serbia], Macedonia, Albania, all of these countries — we will have a war again," Junker added.