Trump on Brexit: EU break-up on the cards, people want their borders back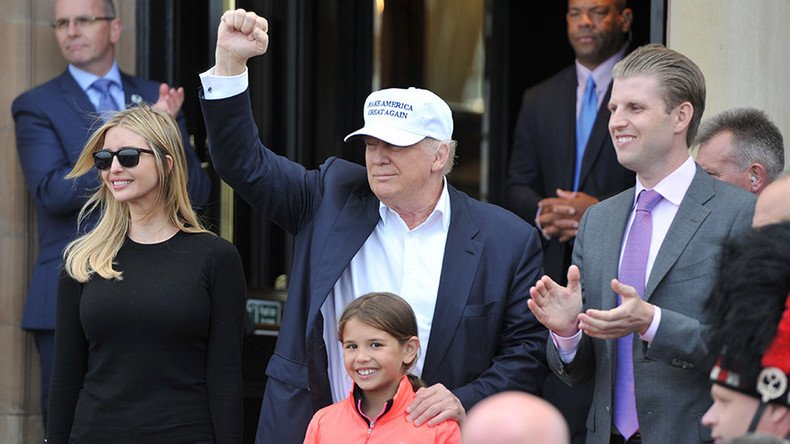 The Republican presidential candidate Donald Trump has praised the British public, saying they "took back control of their country" by voting to leave the EU. He also warned the EU could break-up as people seek to regain control of their borders.
"It looks like it is on its way and we will see what happens. I have a lot of friends in Germany who have always been very proud Germans, but now they are thinking of moving because of the massive influx of people. I could see it happening [the break-up of the EU]. I saw this [Brexit] happening," he said.
In the run up to the referendum vote, Trump, who is in Scotland to open a golf course, had said he would be personally inclined to leave the EU.
"People want to see borders and they don't necessarily want people pouring into their country, and that they do not know who they are where they come from. And not only did they win, they won by a much bigger margin than people thought would happen."
In a warning to other countries around Europe, Trump also stated that he could see anti-EU referendums taking place across the continent as people looked to "take back their independence."
"People want to take their country back and they want to have independence in a sense and you are seeing it all over Europe, and in my opinion more than just happened last night. They want to have a country again, so I think you are going to have this happening more and more."
Last week, in an interview with the Sunday Times, Trump once again aired his opinion that the UK would be better off outside the EU.
"I would personally be more inclined to leave, for a lot of reasons like having a lot less bureaucracy," he told the publication. "But I am not a British citizen. This is just my opinion."
While the EU is looking for a quick divorce from the UK - a number of trade deals will have to be renegotiated amongst other things - Trump thinks Britain will always be an important friend, particularly if he becomes president.
"I don't know if they will be first call or second call, but I know they will be a very important call. There will be a great relationship and they will be great allies, which they always have been and I think zero will change in this respect."
You can share this story on social media: