'Hand in hand': Vigil held on Westminster Bridge for terrorist attack victims (VIDEO)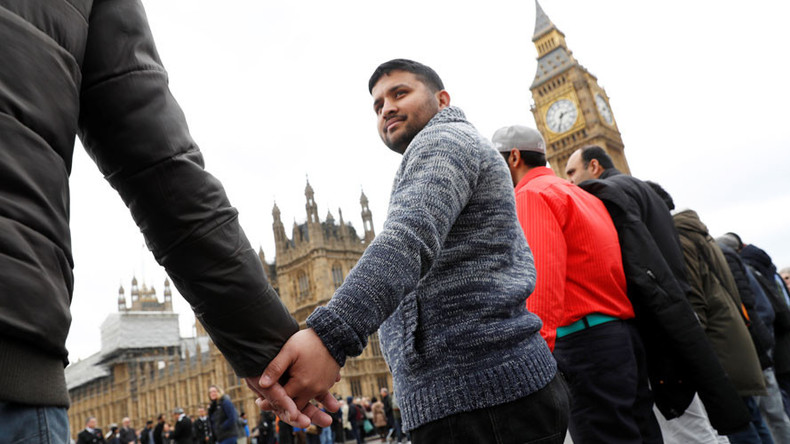 People across all "nations, faiths, orientation and sexes" stood hand in hand on Westminster Bridge to commemorate the victims of the terrorist attack that took place on March 22.
A human chain was formed on both the west and east sides of the bridge as part of a vigil in solidarity for the four victims killed in last Wednesday's assault on Parliament.
Khalid Masood, 52, killed four people and injured 50 more after driving into people on Westminster Bridge's pavements and crashing into Parliament's railings before getting out of the car and stabbing a police officer to death. The attacker was later shot dead.
The Metropolitan Police Federation said the human chain aimed to show that "we will not be divided. Linking all nations, faiths, orientation and sexes."
Met officers joined hands with members of the public to form a line-up of 'Hands across Westminster Bridge' at 2:15pm.
At 2:30, up to 500 faith leaders from across the UK, including members from the Ahmadiyya Muslim Youth Association, walked down the middle of the bridge, between the human chains.
A minute of silence was then held at 2:40pm.
Westminster Bridge and surrounding roads will be closed from 12:30pm until 3:30pm.
A separate human chain was organized by Women's March On London on Sunday, an event which saw dozens of women stand together in solidarity with those affected by the attack.
The vigil came as an inquest into the victims' death was opened and adjourned at Westminster Coroner's Court on Wednesday.
Victims of the attack include PC Keith Palmer, 48, a husband and father of a five-year-old girl, and US tourist American Kurt Cochran, 54, who was in London with his wife to celebrate their 25th wedding anniversary.
Retired window cleaner Leslie Rhodes, 75, and sixth-form college teacher Aysha Frade, 44, were also killed.
In a statement from Aysha's family they described her as a, "caring daughter, loving sister, amazing wife, irreplaceable aunt, thoughtful, supportive friend and the best and coolest of mummies."
"You were ripped away from our lives in the cruellest and most cowardly of ways. We now pray that you guide and protect not only us, but all of London, from further evil. You will always be remembered as our guardian angel who never shied away from facing up to bullies. There are no words to even begin to describe the crushing pain and eternal void left in our hearts."
Twelve people are reportedly still being treated for injuries in hospital following the assault last week, which was carried out in a total of 82 seconds.
An inquest into the death of the attacker will be held on Thursday.
Scotland Yard said there is no evidence linking Masood to Al-Qaeda or Islamic State (IS formerly ISIS), despite IS having claimed responsibility for the attack and branding Masood "a soldier."
The attacker was formerly known by MI5 over links to extremism, but Prime Minister Theresa May stressed to MPs that he was "a peripheral figure."
"The case is historic – he was not part of the current intelligence picture," she added.
Two men, aged 30 and 58, were reportedly arrested in Birmingham and remain in police custody over the Westminster attack.
Another 32-year-old woman reportedly arrested in Manchester is on bail until the end of March, while nine people have been discharged.
Meanwhile, pressure mounts on WhatsApp to allow access for intelligence services and police to Masood's communications over reports he was using the encrypted-messaging service just before the attack.