European press split by mockery & worry on Brexit Day
Published time: 29 Mar, 2017 11:39
Edited time: 30 Mar, 2017 11:12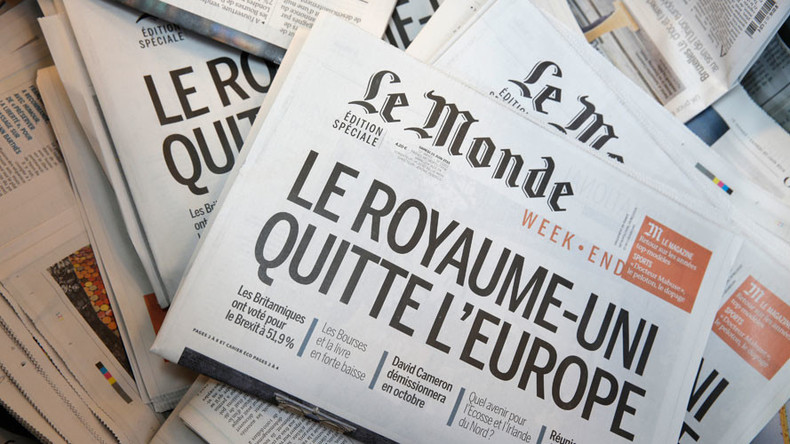 The European press is just as preoccupied with Brexit Day as its British counterparts, dedicating whole pages to the first EU divorce.
German paper Die Welt opted to send out a friendly message to Britain, writing: "Dear Brits, ze door is schtill open."
The paper goes on to signal that while Prime Minister Theresa May was eager to sign the letter invoking Article 50, "many in Brussels and Berlin do not want the Brexit yet."
"Ultimately, the EU's second-largest net contributor could still correct, in their eyes the historical mistake, throughout the negotiating phase," the paper added.
However, Die Welt's smaller version, Die Welt Kompakt, was less forgiving, featuring a large front-page image of May aboard a Union Jack paper boat adrift at sea. Above the striking picture the word "farewell" was written in block letters.
The country's second-largest newspaper, Frankfurter Allgemeine, opted to give Brexit a small space on its cover, with the words "breaking up hurts" next to a picture of the House of Commons.
"The EU must remain tough in the Brexit negotiations with Great Britain," argued Germany's other media titan Die Zeit. The headline of the article was also cause for controversy, as the words "The Art of the Deal" clearly evoked US President Donald Trump, whose bestselling book has the same title.
The French press seemed more saddened than its German neighbors, with the left paper Liberation fronting with the words "we miss you already" over an image of a member of the Queen's Guard.
Their colleagues at Le Monde worried about the "consequences of the break-up."
The Italians at La Repubblica decided to focus on the Scottish independence referendum as a "challenge" to London and Brexit Britain. The famous Corriere della Sera talked of British "uncertainty" at the moment of the "jump," after Brexit minister David Davis confirmed there would be no cap on EU immigration after all.
The most curious, perhaps, might have been Spain's El Pais, which fell in love with Downing Street's cat Larry, streaming footage of the feline sitting outside the door of Number 10, waiting to be let in.
Other articles on the famous feline followed.
Spanish finance newspaper Expansion, however, spoke of Spanish City workers worrying about Brexit.