Royal Marine who killed unarmed Afghan insurgent could walk free in weeks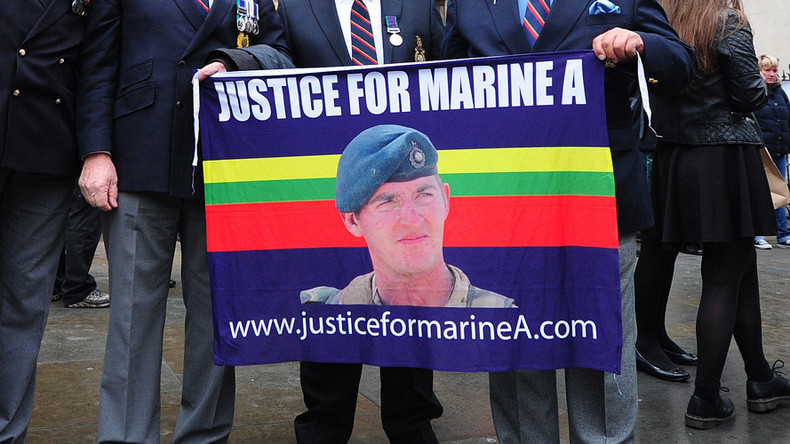 Royal Marine commando Alexander Blackman, who killed a wounded and unarmed Afghan insurgent, will likely be freed from prison in a matter of weeks.
He was re-sentenced on Tuesday following the reduction of his murder conviction to manslaughter.
Veterans and family members cheered outside the Royal Court of Appeals on Tuesday as they heard Blackman's sentence had been reduced from eight years to seven.
The three-and-a-half years he has already been in jail could mean he will be released on the grounds of time served within weeks.
Blackman shot and killed a wounded, unarmed Afghan fighter on camera while quoting Shakespeare in 2011.
He was convicted of murder in 2013 and sentenced to 10 years, later reduced to eight at his first appeal.
Blackman acknowledged in helmet-cam footage of the incident he had just broken the Geneva Convention.
The 15-year veteran of Iraq and Afghanistan could now be out of prison within two weeks his lawyers told journalists, but added that the timescale is ultimately the choice of the Prison Service.
Jonathan Goldberg QC told the gathered crowd that Blackman's wife, Claire, had been a "lioness" during the trials.
"She has shown that ordinary people can do extraordinary things. She kept the flame alive when the legal system had completely abandoned her husband. Her courage and her dignity have been amazing," he said.
Announcing their decision the head of the seven-strong panel of judges said: "As with any person sentenced to a determinate term, his release will ordinarily be at the halfway point of the sentence."
A former marine colonel, Oliver Lee, who resigned from the Corps over the case, told the Telegraph he is pleased the judgement had come down in Blackman's favor.
"I am very pleased that Sergeant Blackman has now been dealt with justly and fairly. This has been my sole intention throughout these proceedings.
"My hope now is that the many lessons from this tragic case will be learned and the Royal Marines can look forward to another 350 years of highly distinguished service."