Eyewitness relives moment she came face-to-face with Westminster attacker (RT EXCLUSIVE)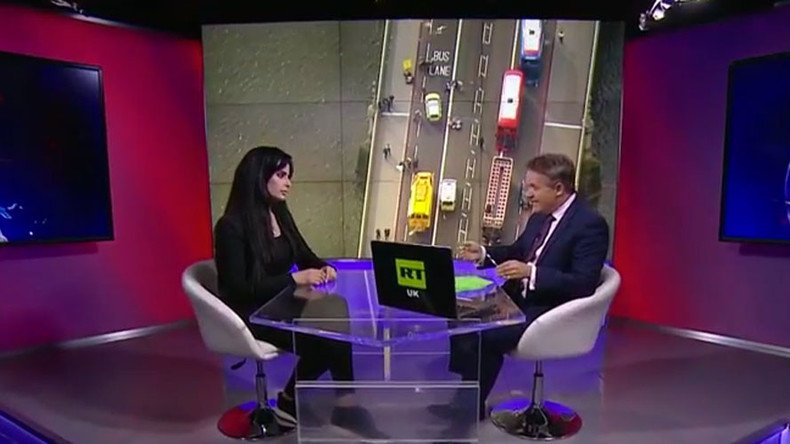 An eyewitness to the London terrorist attack says she came face-to-face with the assailant Khalid Masood after he had mown down people on Westminster Bridge. He was wielding two large knives and told her to "stay away," she says.
Lara Jamil had just left the RT studios on Wednesday when she heard a loud bang near Parliament.
"As I was crossing the road to go to the coffee shop, I heard a big crash, a big bang, and I looked behind me and a car just rampaged, drove over a boy. I thought it was a car accident.
"I ran immediately to the boy to see how he is – I could see blood, head injury, he was shouting from the pure agony he was feeling at the time."
Jamil says she came into contact with a man who was telling her to "stay away."
"I looked at him, I looked at his eyes and then his beard, and then he had two knives, [he was] telling me, 'Stay away, stay away.' So at that time I thought, 'This is not an accident. This is an attack.'
"One of the things I saw in his eyes – pure blankness. Nothing. He's just killed a woman on the bridge – which I didn't know at the time – he nearly killed a boy, he was going to go and kill more, and be killed, and still you can see nothing in his eyes. Blankness – you don't see anger, sympathy , revenge, nothing," she added.
"I do feel lucky … I thought I was really lucky. He could have just stabbed me."
Jamil says that after seeing Masood, she went to the other side of the road.
"I didn't know where he went … I couldn't see.
"There was a shop just next to me, two guys talking, in a booth for souvenirs, selling souvenirs. And they were saying that it was an accident. I said to them, 'No, it's not. It's an attack, he had knives in his hands. He is going to harm people.' They totally dismissed me, they could not believe it.
"A few seconds [later] and we heard the bullets, the gunfire. So at that time I then ran to the boy to see how he is doing because I thought, 'Okay, the police have managed to shoot him.'"
The number of victims now stands at four following the death of Leslie Rhodes, 75, from south London, after his life support was turned off on Thursday night.
The three other victims of the attack were police officer Keith Palmer, 48, teacher Aysha Frade, 43, and US citizen Kurt Cochran, 54.
Masood was shot dead by armed police near the gates of Parliament.
You can share this story on social media: