London terrorist attack outside British parliament: What we know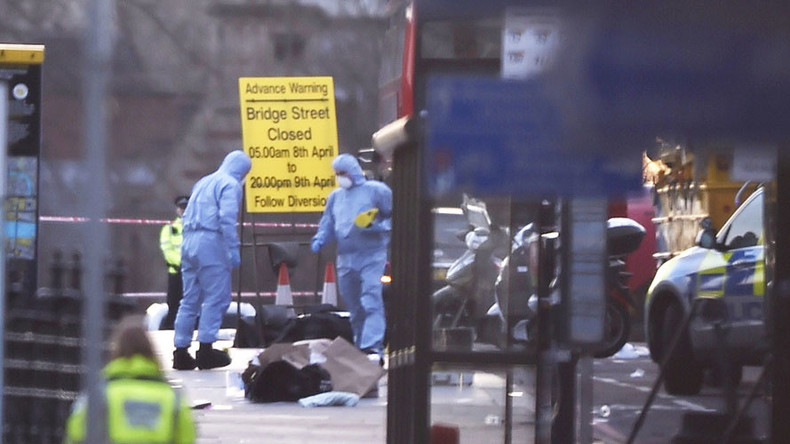 A terrorist attack shook central London on Wednesday, with at least four people killed and about 40 injured. RT shares what details are known so far.
What happened?
A car reportedly crossed Westminster Bridge mowing down pedestrians on its way to the UK Houses of Parliament.
An eyewitness, Richard Tice, told RT: "For the whole length of the bridge, from south to north, there were people lying on the ground and I was then told that a car had driven from the south end all the way up the pavement to the north end of the bridge."
The car hit the railing surrounding the parliament buildings.
A police officer was stabbed at the Carriage Gates and the assailant shot.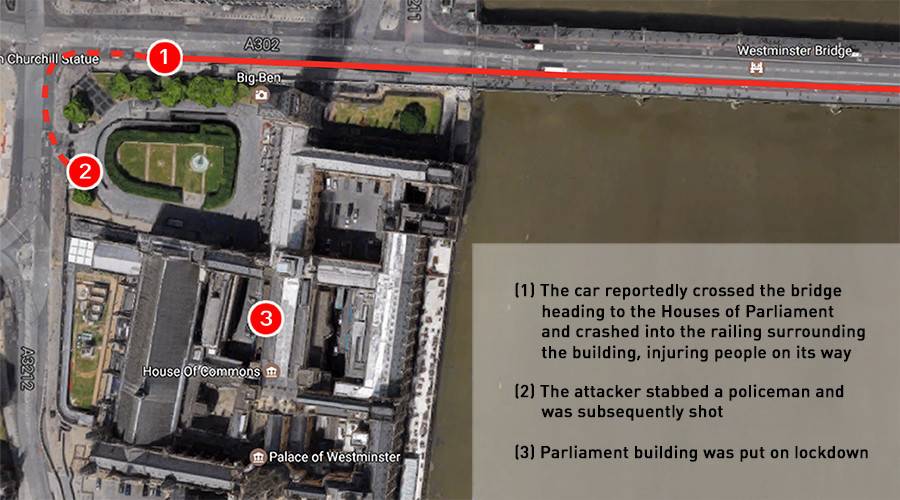 Attacker and motives
The alleged attacker has not been identified. The assailant is thought to have acted alone.
"We think we know who the attacker is," said Acting Metropolitan Police Deputy Commissioner Mark Rowley, Britain's most senior counter-terrorism officer. He added that police were not willing to divulge the assailant's name at this time, although "Islamic terrorism is our assumption."
"We've declared this a terrorist incident and the counter-terrorism command are carrying out a full-scale investigation into the events today," Rowley told reporters.
Victims
Four people are dead, including police officer PC Keith Palmer, a 15-year veteran of the force, and the attacker. The other victims were pedestrians hit by the car.
The attack also left 29 people injured, Rowley said, adding that seven people are now in critical condition.
St Thomas Hospital says it is treating people with "catastrophic" injuries after the vehicle reportedly mounted the pavement on the bridge and "tried to mow people down."
Shocking videos and photos show people lying on the bridge, bleeding heavily, with distraught members of the public rushing to their aid.
Lockdown
Lawmakers were kept on lockdown inside the parliament buildings while police secured the scene, and tourists were trapped on the nearby London Eye for about three hours.
Downing Street says Prime Minister Theresa May will chair a Cabinet Office Briefing Room (COBRA) emergency meeting on Wednesday night.
May is safe after the incident, Downing Street said.
You can share this story on social media: