Scenes of immediate aftermath of 'terrorist incident' near UK Parliament (VIDEO)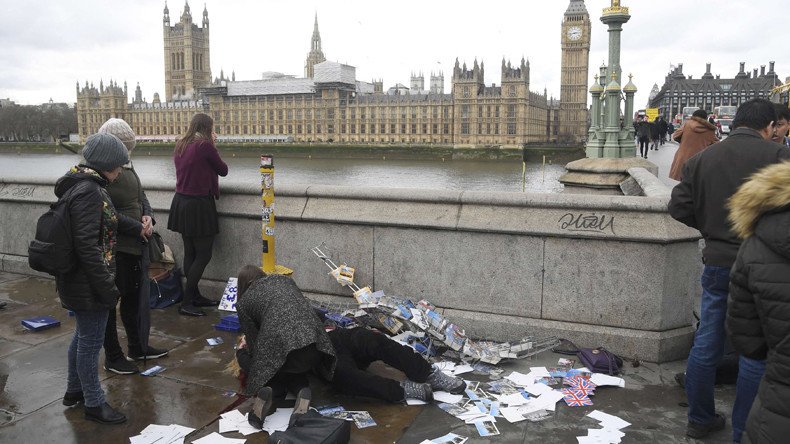 Videos of the immediate aftermath of attacks that took place on Westminster Bridge and the gates of Parliament, which police are now treating as a "terrorist incident" have emerged online.
RT UK's Afshin Rattansi has been live-streaming the immediate aftermath of the gunfire and stabbing incident near the UK Parliament on Wednesday afternoon on Periscope.
Rattansi, who was near Parliament at the time of the incident, reported "massive shouting, people told to run as fast as they could," while live-streaming from the scene.
READ MORE: Police shoot knife attacker outside UK parliament, people rammed with car (GRAPHIC PHOTOS)
While the roads have been "all blocked" by law enforcement, people gathered in the area, including Rattansi, have been pushed further from the scene.
A video of people reportedly rammed by a car on Westminster Bridge before it crashed into the gates of Britain's Parliament perimeter also emerged on Twitter.
People running up to and attending to persons lying in the middle of the road on the bridge can be seen in the footage posted on Twitter.
"There [are] about three of them, one is unconscious," a voice off the camera is heard saying, while the Twitter post says "at least five people" have been "mowed down" by the car.
Another video shows a car on a pedestrian lane with the driver's front door open, with the vehicle's front side apparently smashed into the gates.
An eyewitness who was "in the middle of the bridge" at the time of the incident told RT he heard screaming and saw several bodies on different sides of the road. There was also "a body floating face down in the water" of the River Thames, the man said.
He "realized something bad has happened" and together with other eyewitnesses tried to stop people from coming onto the bridge before the police arrived, he told RT.
Ruptly footage captured an emergency helicopter landing close to the site of the attacks.
You can share this story on social media: