'Winged bull' destroyed by ISIS in Iraq will grace London's Trafalgar Square plinth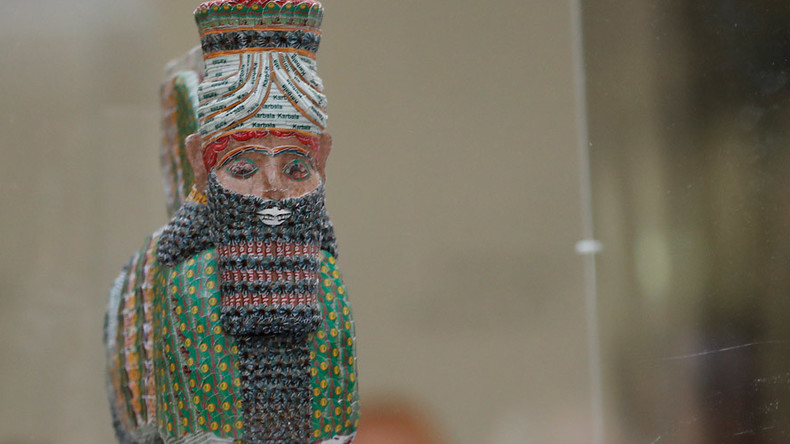 A recreation of an artwork destroyed by Islamic State (IS, formerly ISIS/ISIL) in Iraq will be the next sculpture adorning the fourth Plinth in Trafalgar Square in 2018.
'The Invisible Enemy Should not Exist', by Michael Rakowitz, features the Lamassu, a winged bull that stood at the Nergal Gate of Nineveh from 700BC until it was destroyed by the extremist group in Mosul's museum in Iraq.
While the original was made out of marble, its recreation will be made out of date syrup tin cans, emblematic of Iraq's once flourishing industry "destroyed, like the bull, by war" the Fourth Plinth website says.
Next year the artwork will occupy the northwestern corner of the square, which has seen a succession of different artwork since 1999, replacing David Shrigley's 'Really Good', a "thumbs-up" 7-meter-high bronze statue.
The other artwork commissioned for the Fourth Plinth is 'THE END' by Londoner Heather Phillipson.
It features a giant blob of whipped cream with a cherry on top, along with a fly and a drone which collects and transmits images of Trafalgar Square from its strategic point on the Plinth.
The work aims to represent global dissatisfaction as well as mass surveillance and corporate pomposity.
Artist Phillipson said that while idealizing a piece for the historic base, she took into account the symbolic location of Trafalgar Square as a venue for dozens of protests throughout the years.
"Topped with a giant, unstable load of replica whipped cream, a cherry, a fly and a functioning drone, the plinth becomes a monument to hubris and impending collapse," Phillipson said.
The two "striking" artworks were today announced at the National Gallery after being picked from a shortlist of five "extremely strong" pitches, designed to be situated beneath the colossal statue of Admiral Nelson.
Fourth Plinth Commissioning Group Chair Ekow Eshun said, "this year we received five extremely strong proposals for the next Fourth Plinth commissions, and choosing the winning commissions was particularly challenging.
"I wish to congratulate Michael Rakowitz and Heather Phillipson on winning the commission.
"Their works are wondrous, striking and deeply engaging.
"The new commissions will proudly continue the legacy of the Fourth Plinth in putting world-class contemporary sculpture at the heart of London," Eshun said in a statement on London's government website.