Homeless man damages famed Gainsborough painting with screwdriver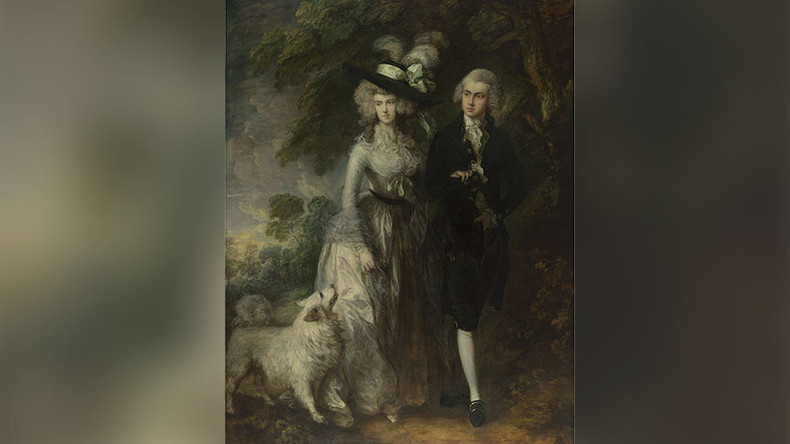 A 63-year-old faces charges of criminal damage after scratching Thomas Gainsborough's The Morning Walk at the National Gallery in London, prompting a scuffle and a two-hour part closure of the museum.
Keith Gregory, the suspected vandal, described by police as having no fixed abode, will appear at Westminster magistrates court on Monday.
The painting, formally known as, Mr and Mrs. William Hallett, which shows a young, wealthy couple walking in the countryside with a dog beside them, could potentially be fully restored.
"The damage is limited to two long scratches which have penetrated the paint layers but not the supporting canvas. The painting was removed from display and examined by the gallery's conservators, who are now assessing next steps," said a spokesperson for the National Gallery.
An eyewitness who posted about the incident on Reddit before the news broke, said the perpetrator was reported to have shouted that he had a bomb before defacing the canvas with a screwdriver and being overwhelmed by visitors and security.
Room 34, in which the painting is displayed, was recently featured in the Bond movie Skyfall, and the entire East Wing had to be evacuated, as experts rushed to study the damage.
According to Mark Bills, director of Gainsborough's House, the 18th-century painter's personal museum, who spoke to the Guardian, The Morning Walk is "one of Gainsborough's great masterpieces," demonstrating an "economy of brushstrokes" suggesting a "confident painter… at the height of his powers."
"It's amazing what conservators can do. You probably won't see a difference. I'm relieved from what I've read it hasn't caused any permanent damage," added Bills.
Born in 1727, Thomas Gainsborough was in demand in his lifetime, receiving multiple royal commissions, and has since been hailed as the father of English landscape painting, although his portraits were significantly more lucrative.
The Morning Walk purchased for the National Gallery by Lord Rotschild for £30,000 in 1954, equivalent to £770,000 today, and a significant amount at that time. Gainsborough's most expensive painting, Portrait of Miss Read, Later Mrs. William Villebois was purchased it for £6.5m in 2011 at a Christie's auction.
The favorite, famous target for art defacers is the Mona Lisa in the Louvre in Paris, which has been attacked on separate occasions with acid, a brick, and a mug.