House of Fraser takes down 'erotic' ad that 'sexualizes children'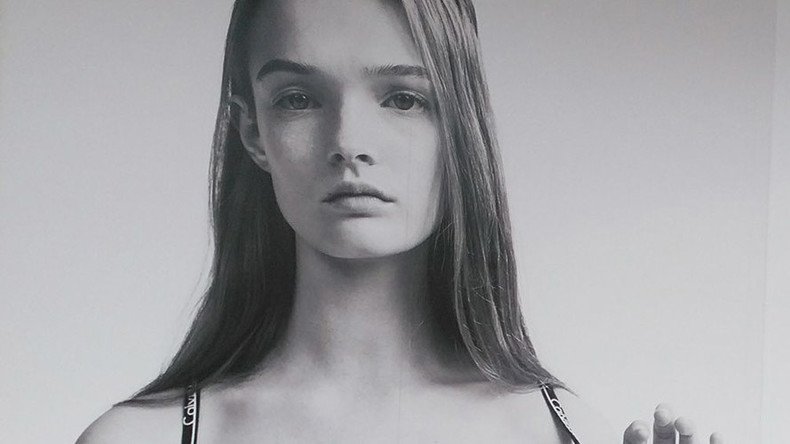 An advert featuring a young girl posing in an "erotic" way has been taken down at a UK department store called House of Fraser over concerns it "sexualizes" children.
The Calvin Klein ad was removed from a store in Cheltenham due to complaints that the featured underwear model, who is known simply as Lulu, looks more like a child than a grown woman and therefore promotes child "sexualization."
The "offensive" ad was reported by a mother who came across it while shopping with her 11-year-old daughter and her friend.
Rachel Ashby initially took to social media to express her concern.
She later added, "this is an advert for women's lingerie, not children's underwear."
"While I realize it is likely she is probably of legal age to appear, the fact that she looks underage in terms of body shape and somewhat vulnerable facial expression combined with the fact that she is wearing very little and is adopting a strangely provocative pose means it could be deemed to sexualize children," Ashby told the Daily Mail.
A House of Fraser spokeswoman said the company had decided to take down the ad after receiving a number of complaints.
"House of Fraser acknowledges the small number of customer complaints around the Calvin Klein advertising in some of our stores," she said, adding "we can confirm that the images in question are being removed."
While little is known about the New York-based model, the Sun Online reported that Lulu is at least 18 years old.
Ashby expressed dismay at the "irresponsible" and "disappointing" ad, especially in light of the department store's support for the Action for Children charity.
This is not the first time Calvin Klein ads have faced backlash.
A photo of model Klara Kristin was criticized last year because the shot looked up towards her underpants.
According to Vogue, commentators said the picture glorifies "rape culture" and normalizes sexual harassment, while others claimed it was yet another "objectification" of the female body.
Kristin defended her picture on Instagram, however, saying the whole controversy is merely proof that some women are "alienated" from their own bodies.
Another Calvin Klein supermodel, Lara Stone, was banned in Australia back in 2010 after the country's Advertising Standards Bureau claimed one of her pictures was "suggestive of violence and rape."
The ad depicts Stone's head lying on a man's lap, while another male straddles her.
A spokesman for the Bureau said: "The Board considered that whilst the act depicted could be consensual, the overall impact and most likely impression is that the scene is suggestive of violence and rape."
While the board claimed the ad was demeaning to women, as Stone was seemingly depicted as the men's "plaything," it stressed that the photo devalues men as well, as it implies "sexualized violence against women," the Daily Mail reported.
You can share this story on social media: