Theresa May to trigger Article 50 in coming days when Brexit bill gets Royal Assent
Published time: 14 Mar, 2017 10:41
Edited time: 15 Mar, 2017 10:05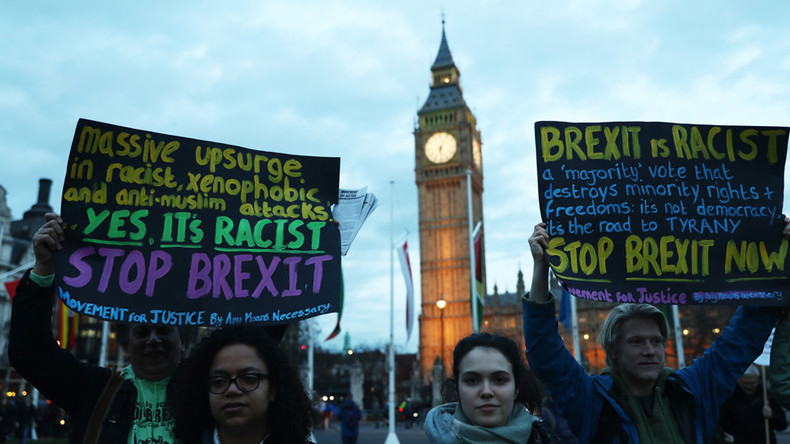 Prime Minister Theresa May says the government's Brexit bill will get Royal Assent in the coming days, after which she will come to the House to announce the triggering of article 50.
Speaking to the Commons, she said: "This will be a defining moment … we'll be a strong, self-governing Britain.
"This deal will work for everyone - that's why we've been working closely with devolved government including the Scottish.
"It's not a time to play politics, but to work together for this country."
On Monday night, peers in the House of Lords backed down on their demands for EU residency rights and a "meaningful" vote on the final Brexit deal after their objections were overturned by MPs in the House of Commons.
The exchange rate fell on Tuesday morning following news of the Brexit bill's success. Sterling fell by 0.7 percent against the US dollar to 1.213 and 0.6 percent against the euro to 1.139.
Sterling is now at its lowest point since mid-January when Prime Minister Theresa May declared Britain would leave the single market. That is around 19 percent weaker than before last June's Brexit vote.
The bill is expected to receive Royal Assent and become law sometime this week. That means May will be free to push the button on withdrawal talks, now expected to begin in the last week of March.
Whitehall sources had earlier said May would move quickly to trigger Article 50. She had been expected to announce the start of Brexit talks in the Commons on Tuesday afternoon.
Deeply disappointing that govt denied the people, through Parliament, Brexit oversight & refused to guarantee the rights of EU nationals

— Jeremy Corbyn MP (@jeremycorbyn) March 13, 2017
The new date is thought to be linked to the decision of Scotland's first minister, Nicola Sturgeon, to call for a second independence referendum by the spring of 2019. One suggestion was that May did not want to appear cavalier about the future of the union by rushing to trigger article 50 a day after Sturgeon's statement.
Another reason for a delay in triggering Article 50 has been attributed to the Dutch election, which takes place on Wednesday. With Geert Wilders, a vehemently anti-EU candidate, making waves, Downing Street is keen not to influence events.
After 9 months of delays, every obstacle to Article 50 has been removed. Can we now please get on with it!

— Nigel Farage (@Nigel_Farage) March 13, 2017
May has been warned she faces a "war on two fronts" with Sturgeon and the EU. Former Foreign Secretary Lord Hague said Sturgeon would exploit inevitable difficulties in Brexit negotiations to push the case for breaking up the EU, according to the Daily Mail.
It is thought May will make a statement to MPs later on Tuesday in which she will condemn Sturgeon's bid to hold a second independence vote.
The Brexit process will take two years from when May invokes Article 50, which formally gives the EU notice of UK's intention to leave the bloc.
Once May decides to trigger Article 50, she must inform Donald Tusk, the president of the European Council in Brussels, that Britain wants to leave. She is likely to do that by sending Tusk a hand-delivered letter or email.
Having written to Tusk, she will inform Parliament in a statement to the House of Commons of her decision.
At least seven new bills will be required in key areas affected by Brexit, according to leaked Whitehall documents seen by the Times.
Legislation will need to be prepared to cover areas including tax, immigration, agriculture, trade and customs regimes, fisheries, data protection and sanctions.
Another six bills may also need to be passed to cover new arrangements for the UK's future after exiting the EU.
The raft of legislation could provide further opportunities for MPs and peers to shape the terms of Britain's departure from the bloc, potentially causing disruption within the tight two-year timetable.