'Security breach' probed after Theresa May's travel diary found on train
Published time: 13 Mar, 2017 13:26
Edited time: 14 Mar, 2017 11:57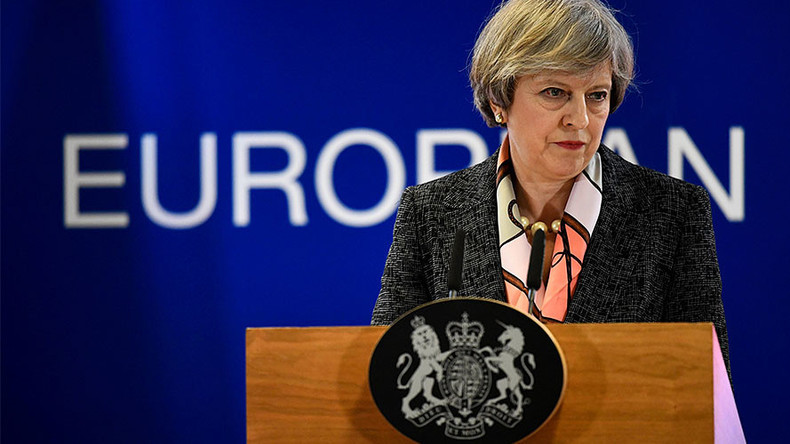 The government is investigating a "serious security breach," as documents containing sensitive information regarding Prime Minister Theresa May's travel plans were found by a passenger on a train.
The two-page document contains details concerning the PM's schedule for a trip she took to northwest England to attend a regional cabinet meeting, as well as the address of the Mere Hotel in Knutsford where May was going to spend several hours working.
The PM's travel diary was handed over to the Daily Mirror by a passenger who found them on the floor of a first-class carriage of a train going from Manchester to Edinburgh on the day of May's visit.
A former royal bodyguard, Inspector Ken Wharfe, told the Mirror it was a "serious security breach," branding it "unacceptable."
He told the Daily Mirror: "In today's environment, it becomes a serious security matter when documents like this detailing the hourly movements of a protected person are misplaced. That's just not acceptable.
"Theresa May is given this protection because she is a target and so, of course, this is a serious security risk."
Wharfe also warned of the implications of such oversight in light of growing terrorist activities worldwide.
"These papers give a detailed assessment of her movements. Had such information reached potential terrorists it could serve to confirm their plans.
"But also, importantly, it would highlight the lapse and suggest to those with such terrorist intentions the weakness surrounding their potential target," he said.
A Cabinet Office spokesperson said they had been made "aware of claims" and were "investigating accordingly."
Earlier on the same day the schedule was found, May had flown with an RAF aircraft from Northolt, West London to Manchester and was due to meet cabinet colleagues at Warrington's science park after that.
The document includes notes for the PM on how to deal with confrontational reporters, as well as plans for a call with NATO Secretary General Jens Stoltenberg and a meeting with Tory figures at a "treasurer's dinner."
It is thought the documents were left by an aide who was traveling separately from the prime minister.
However, Downing Street has refused to say whether the person who lost the document has been identified or if the papers had even been reported as lost.
The current risk of terrorism in the UK is "severe," while the threat from Northern Ireland Republicans was brought up to "substantial" last year.